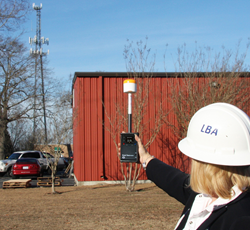 The addition of the EMCTD Smart Fieldmeter® line makes LBA a complete one stop shop for all things related to RF Safety,
GREENVILLE, NC (PRWEB) February 20, 2017
LBA Group, Inc. (LBA) announced that EMC Test Design, LLC has named its test equipment unit, LBA Technology, Inc., a distributor in the Americas for EMCTD Smart Fieldmeter® systems. Widely accepted for their high quality, EMCTD instruments are nevertheless among the lowest cost of competitive RF survey meters.
LBA can now complement its traditional suite of RF safety services with a professional, cost effective broadband RF Safety survey meter selection. LBA's EMCTD offerings will support FCC, OSHA, and international radio frequency compliance in the industrial, broadcast, and wireless communications markets. Broadband Smart Fieldmeters®, broadband RF probes, and accessories can be combined in many ways to suit industry-specific requirements.
Broadband RF survey meters are used for laboratory testing of RF devices and maximum permissible exposure (MPE) surveys on broadcast, communications, medical, and industrial systems. Some industrial applications include surveys on RF welders, lasers, heat sealers and semiconductor production equipment. These meters are perfect for compliance tests on many types of RF producing equipment to demonstrate conformance with OSHA, FCC, ICNRP, Canada Safety Code 6, and other RF health standards.
Recognizing that most users in its markets are not RF engineers, LBA has pre-engineered four versatile broadband Smart Fieldmeter® systems containing the correct instruments, probe(s) and accessories for OSHA/FCC compliance specialists to immediately apply to their needs in the broadcast, wireless communications and industrial sectors. The LBA function-engineered EMCTD broadband RF meter ensembles are ANGPE-3000 (general purpose analog), DIGPE-3000 (general purpose digital), DIGPEH-3000 (industrial and AM/SW broadcast) and the DIGMPE-8000 (shaped response for broadcast and wireless communications).
"We're pleased to now offer a solutions oriented ensemble of preselected RF Safety survey meters and accessories that are ready to go for our wireless and industrial customers," LBA Test Equipment Specialist, Aaron Smith said.
Beyond the pre-engineered systems, the full range of EMCTD test products is available from LBA Technology. These include digital and analog survey instruments, a full range of probes for both electrical and magnetic field measurements up to 40 GHz, utility accessories, and software options. Specifications for EMCTD Smart Fieldmeter® products are available HERE.
"We are most excited about the addition of the EMCTD Smart Fieldmeter® line because this now makes LBA a complete one stop shop for all things related to RF Safety," LBA COO, Mike Britner said. "Our NIER and other RF safety audits, RF safety awareness training, and selection of RF personal protective equipment have long been mainstays in the RF community," Britner added.
More information on LBA Technology's new EMCTD Smart Fieldmeter® family of RF Safety survey systems is available at: https://www.lbagroup.com/products/emctd-smartfieldmeter-rf-emf-radhaz-safety-survey-meter-systems, or contact Aaron Smith, 252-757-0279, aaron.smith(at)lbagroup(dot)com for more information on all LBA RF Safety One Stop Services.
Keep up with LBA news and information by following the company on Facebook at: https://www.facebook.com/LBAGroup.
About LBA
LBA Group, Inc. has over 50 years of experience in providing RF asset solutions and risk management for industrial and telecommunications infrastructure assets. The company is comprised of the technology consultancy, Lawrence Behr Associates, Inc.; LBA Technology, Inc., a leading manufacturer and integrator of radio frequency systems, lightning protection, and EMC equipment for broadcast, industrial, and government users worldwide; and LBA University, Inc., providing on-site and online professional training. The companies are based in Greenville, N.C., USA.
About EMC Test Design
EMC Test Design, LLC (EMCTD) is a leading designer and manufacturer of electronic products for EMC testing. EMCTD has been designing and manufacturing state of the art test instruments since 1992.