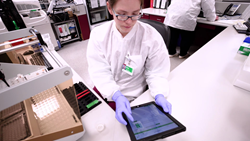 We had been using the same kind of checklists and clipboards and notebooks for years. And here we were trying to be the cutting-edge laboratory and be on top of our game and do everything we can to do things better, faster, smarter.
Orlando, Florida (PRWEB) February 23, 2017
At the annual HIMSS Conference and Exhibition, Microsoft officially releases its video case study of the Assured Compliance Solution™ developed by enterprise mobility company Kaonsoft on the Microsoft Universal Windows Platform (MUW) for ProMedica Laboratories. The video showcases how Kaonsoft successfully integrated Microsoft Azure and UWP into its mobile solution to drive advancements in healthcare.
In a highly automated and complex facility like ProMedica Laboratories, one of only 43 ISO certified labs in the United States, the day-to-day operations were surprisingly outdated. Maintenance and documentation were mostly paper-based and laboratory compliance officers were often burdened with mundane tasks and bogged-down by binders of administrative reports.
"We had been using the same kind of checklists and clipboards and notebooks for years. And here we were trying to be the cutting-edge laboratory and be on top of our game and do everything we can to do things better, faster, smarter," said Bonnie Rashleigh, ProMedica Laboratories supervisor of Biochemical Pathology. "We needed a better way to track all the tasks that needed to be done and to be made aware if something was missed."
ProMedica knew that the time was ripe for a scalable tech solution to help increase efficiency for optimized workflow and enhanced patient care. To meet this demand, Kaonsoft, a member of the Microsoft Partner Network, delivered the Assured Compliance Solution™ (ACS) on the Universal Windows Platform (UWP). ACS replaced all paper logs with Windows 10 tablets to help protect the integrity of test results for patients and keep laboratories in compliance with regulatory requirements. Hosted on the secure and reliable Azure (Microsoft cloud), ACS also provided a centralized database for technicians to record and review equipment status, access historical records and run reports - all in real-time. The simplicity of a tablet, the ease of use, and the immediate push notification alerts sent when errors were detected helped to further ensure that tasks were completed in a timely and accurate manner.
Since its implementation in January 2016, the ACS UWP app has helped ProMedica labs achieve a 100% compliance rate and has saved technicians 13 hours each month or 156 hours per year in administrative tasks. Simply put, increased productivity and improved efficiency in the laboratory translate into decreased length of stay at the hospital and enhanced patient care.
"We are already looking forward to utilizing the ACS application at other ProMedica Laboratories," Rashleigh said. "It will soon move to the North Region laboratories and should help them be sure that they have all of their regulatory requirements documented."
Microsoft case studies feature businesses that combine accessible Microsoft technology with solutions that drive innovations. "As an enterprise mobility provider, we are proud to have been selected by software powerhouse Microsoft for a case study. It is both an honor and a testament to the significance of disparate technologies working together to improve people's lives," said Daniel J. Lee, Kaonsoft chief technology officer/co-founder/CEO." "ACS was built on the Kaonsoft Enterprise Mobility Platform (KEMP) and we have only scratched the surface of what this agile platform can do. KEMP is an enabling technology with the potential to impact not only the healthcare field but to bring digital innovation across all industries - manufacturing, logistics, public safety, education, media, entertainment and financial services. Its applications are endless."
About ProMedica
ProMedica is a mission-based, not-for-profit healthcare organization serving northwest Ohio and southeast Michigan. The 12-hospital system has more than 16,000 employees, 2,300 physicians with privileges and more than 800 healthcare providers employed by ProMedica Physicians. Driven by its mission to improve health and well-being, ProMedica offers a full range of diagnostic, medical and surgical specialties in areas such as emergency medicine and trauma, behavioral health, cardiology, oncology, orthopedics, neurology and women's and children's services. The health system has been nationally recognized for its advocacy programs and efforts in bringing awareness to hunger as a health issue. For more information about ProMedica, please visit http://www.promedica.org/aboutus.
About Kaonsoft, Inc.
Established in 2011, Kaonsoft is a software company that delivers secure mobile strategies to organizations across industries for complete digital transformation. Backed by decades of digital expertise, Kaonsoft provides end-to-end mobility solutions that include an award-winning app development platform, a line of business-specific mobile applications as well as app delivery services. Kaonsoft aims to help clients improve customer experience, increase operational efficiency and optimize top line growth through a successful realization of enterprise mobility. For more information, visit http://www.kaonsoft.com or connect with Kaonsoft on Facebook, LinkedIn, Twitter, and YouTube.