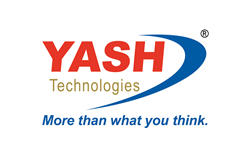 East Moline, IL (PRWEB) February 21, 2017
YASH Technologies, Inc., one of the largest independent technology services and outsourcing partners for global companies, announced the inauguration of its largest campus at Rajiv Gandhi InfoTech Park, Hinjewadi, Pune. This state-of-the-art facility will enable YASH to provide best in class services and solutions to its growing list of Fortune 2000 customers, while sharpening its focus on cutting edge technologies and service delivery mechanisms. The facility will be operational in April 2017.
"YASH is experiencing strong global growth as our customers seek to partner with innovative service providers, like us, who can transform their businesses while driving operational excellence," said Manoj Baheti, CEO, and Founder, YASH Technologies. "Our facility in Pune is part of our strategic investment to build assets, competencies, and path-breaking platforms that will continue to provide differentiated value to our customers."
The first phase of the campus will enable YASH Technologies to house several thousand additional IT professionals. It will be the nerve center for fostering some of the path breaking innovations that YASH delivers to its customers, in areas such as an advanced analytics, cloud transformation, and mobility.
"The Pune campus is in line with our vision of building and leveraging world class infrastructure for delivering transformational services to our global customers," said Kirti Baheti, MD, YASH Technologies. He further stated, "Fostering such ambience & facilities, in conjunction with a challenging and motivational workplace, is at the heart of the high performance culture that YASH is known for."
The campus would serve as the focus delivery center for some of YASH's large customers as also enable seamless business continuity in case of any operational issues in other delivery centers. It will strengthen some of the business solution COE's that YASH has built over time, including SAP, Microsoft, and Oracle & Salesforce.
Mr. Bala Navuluri, COO, YASH Technologies, said, "YASH has emerged as a "partner of choice" for our customers in the current rapid evolution of the IT services business landscape. Our customer centric business model has helped drive strategic alignment and innovation. As we harness the talented workforce pool, solid infrastructure, and amenities that Pune offers, we look to this center to be a strong pivot in our journey of growing by delivering customer value"
YASH has operations spread over 11 other campuses and delivery centers in India, in addition to 18 other centers globally.
For more information about YASH Technologies, please visit http://www.yash.com or email info(at)yash.com.
About YASH Technologies
YASH Technologies focuses on enabling its customers to succeed and drive IT led Business Transformation. As a leading technology services and outsourcing partner for large and fast growing global customers, the company leverages technology and flexible business models to enable innovation and business value throughout its customer's enterprise. YASH customer centric engagement and managed services delivery framework integrates specialized domain and consulting capabilities with proprietary methodologies and solution offerings to provision application, infrastructure and end-user focused Right-Sourcing services. Headquartered in the U.S, with delivery and sales centers globally, YASH serves its customers across 6 continents .YASH is an SEI CMMI (Level 3) and an ISO 9001:2015 certified organization.