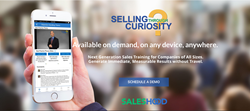 "We had our best quarter ever with SalesHood and Selling Through Curiosity." Joe Fuca, President, Worldwide Field Operations, FinancialForce
San Francisco, CA (PRWEB) February 21, 2017
SalesHood®, the leading sales productivity platform announced an exclusive partnership with Barry Rhein's highly acclaimed Selling Through Curiosity™. The sales training program is available on demand in SalesHood® to help companies grow top-line revenue faster by automating and prescribing how sales training is delivered, reinforced and measured.
"It's no secret, companies are wasting billions of dollars every year on sales training that's costly, ineffective and inefficient. 95% of what is trained in a workshop is forgotten because of poor reinforcement, certification and best practice sharing," says Elay Cohen CEO of SalesHood and former SVP Sales Productivity at Salesforce.
Selling Through Curiosity is proven to deliver revenue results in days and weeks versus months and years with SalesHood's ability to prescribe just-in-time collaborative coaching huddles, content rich best practice videos, deal coaching exercises, peer to peer collaboration and certifications.
"Every sales leader worries about taking their teams out of the field. We had our best quarter ever with SalesHood and Selling Through Curiosity." Joe Fuca, President, Worldwide Field Operations, FinancialForce
This next generation sales training is delivered by front-line managers or trainers to quickly increase win-rates and increase rep quota attainment. Through video and social reinforcement on web and mobile, salespeople have a personal sales coach and team of mentors supporting them all the time, wherever they go.
Praised by tens of thousands of sales professionals, Selling Through Curiosity is credited for producing billions of dollars of revenue and shareholder value. The program includes: Discovery, Effective Note Taking, Qualification, Decision Making Process, Advanced Questioning, Creating Custom Presentations, Mutual Plans, Closing, Objection Handling, Negotiating, Prospecting, and Advanced Relationship Building.
"Transforming a sales organization to obtain short-term and long-term measurable selling results is a complicated process. It's why the majority of sales training programs fail. SalesHood provides the ongoing practice that is missing in all other sales training programs. It's why our customers see immediate and long-term measurable results. I'm excited to partner with SalesHood to offer Selling Through Curiosity to every company, team and salesperson on the planet," says Barry Rhein.
To see how Selling Through Curiosity and SalesHood could impact your top-line revenue results, for a fraction of the cost of in-person sales training, schedule a demo.
About SalesHood
SalesHood helps companies get up to speed and grow revenue faster by collaborating and sharing best practices wherever they are, on any device. SalesHood is a proven and trusted sales productivity SaaS platform, created by former SVP of Sales Productivity from Salesforce. SalesHood is mobile-first automating sales enablement, sales training, onboarding, certification, content sharing, sales manager coaching and sales process execution. SalesHood has more than seventy customers, thousands of teams and over 21,000 subscribers from Alteryx, Apttus, DocuSign, Domo, Host Analytics, FinancialForce, InsideSales.com, Intacct, NewRelic, RingCentral, ServiceMax, Sonatype, Telogis, Zuora and many more.
About Barry Rhein and Associates
For more than 30+ years, Barry Rhein and Associates is the most sought after sales consulting organization in Silicon Valley. The highly acclaimed Selling Through Curiosity program is praised in delivering immediate and measurable sales results, accomplishing in days what would normally take years. Barry Rhein's curiosity-based methodology is widely appreciated for moving far beyond theory and into simple, practical steps that immediately impact attitudes, skills, effectiveness, and earnings of the participants.