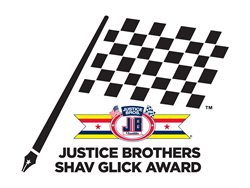 Duarte, Calif. (PRWEB) February 22, 2017
Ken Block, Craig Breedlove, Jimmie Johnson, and A.J. Watson have been nominated for the 18th Annual Justice Brothers‐Shav Glick Award. The Justice Brothers‐Shav Glick Award recognizes motorsports personalities who have made valuable or distinguished contributions to the various types of motorsports in California. Shav Glick, who passed away in 2007, was a highly respected motorsports writer for the Los Angeles Times and member of the Motorsports Hall of Fame of America. Ed Justice Jr., President and CEO of Justice Brothers, will present the award during the pre‐race ceremonies for the Monster Energy NASCAR Cup Series Auto Club 400 race at Auto Club Speedway in Fontana, Calif., on Sunday, March 26.
The nominees for 2017 are:
Ken Block – In 2005, Ken Block became Rookie of the Year in his first season of rally in the Rally America Championship. His combination of driving and marketing skills has gained him worldwide fame with his series of Gymkhana videos which have had over 400 million views franchise wide. In 2010, he became one of only four Americans to ever score points in the World Rally Championship. Since the start of his career Block has accumulated five X Games medals, including taking silver at Global X Games Barcelona RallyCross in 2013.
Craig Breedlove – The first person in history to reach 500 mph and 600 mph, Craig Breedlove, is a land speed legend. Using several turbojet-powered vehicles, all named Spirit of America; he drove to five world land speed records. The Beach Boys' song Spirit of America was inspired by Breedlove's land speed record set in 1963. Breedlove was inducted into the Motorsports Hall of America in 1993 and the International Motorsports Hall of Fame in 2000.
Jimmie Johnson – Seven-time NASCAR Cup Series Champion, Jimmie Johnson, started riding 50cc motorcycles at the age of 5. Before heading to NASCAR, Johnson drove in the Mickey Thompson Entertainment Group Stadium Racing Series and also won championships in both the SCORE International Off-Road Series and SODA Winter Series. Today in his 16th full season in NASCAR, Johnson finds himself seventh on NASCAR's all-time wins list and tied Richard Petty and Dale Earnhardt with seven NASCAR Series Cup Championships.
A.J. Watson – Legendary racecar builder and chief mechanic at the Indianapolis 500 from 1949 through 1984, AJ Watson, won the brickyard race six times. In 1949 he entered a home-built car, but failed to qualify. For the next 11 years, his cars qualified for every race. From 1955 to 1958 he was associated with the John Zink team, and from 1959 on, with the Bob Wilke team. He continued to build and enter racecars for the next two decades. Watson was inducted into the National Motorsports Hall Of Fame in 1993 and the Motorsports Hall Of Fame Of America in 1996.
Previous recipients of The Justice Brothers-Shav Glick Award
2016 – Ed Iskendarian 2007 – Don Prudhomme
2015 – Tommy Kendall 2006 – Phil Hill & Carroll Shelby
2014 – Bill Simpson 2005 – J.C. Agajanian
2013 – Mickey Thompson 2004 – Les Richter
2012 – Jeff Gordon 2003 – Rick Mears
2011 – Robert E. Peterson 2002 – Parnelli Jones
2010 – Kenny Roberts 2001 – Wally Parks
2009 – Frank Kurtis 2000 – Dan Gurney
2008 – John Force
###
About Justice Brothers, Inc.
Justice Brothers, Inc. is a manufacturer and worldwide distributor of over 100 car care products, fleet, farm, and industrial lubricants and cleaners. Since their beginnings in the additive industry, the Justice Brothers Corporation has been an innovator in the development of new and better products to solve problems in the automotive service industry. During their over 75 years in the automotive industry, Justice Brothers has built a large and loyal customer base that encompasses quick lubes, dealerships, and independent auto stores.
About Auto Club Speedway
Located 50 miles east of Los Angeles in Fontana, Auto Club Speedway is California's premier motorsports facility, hosting over 320 days of track activity each year including the Monster Energy NASCAR Cup Series Auto Club 400 weekend, March 24-26, 2017. The two-mile D-shaped oval is one of the fastest tracks on the circuit. The Speedway is also home to numerous movies, television and commercial productions, photo shoots, new car testing, club racing and a variety of racing schools. For more information on events at Auto Club Speedway call 1-800-944-RACE (7223) or visit http://www.autoclubspeedway.com.