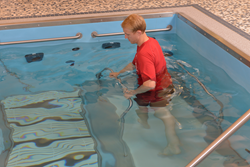 (PRWEB) February 21, 2017
Individuals who have been diagnosed with cancer are at risk for many conditions and problems directly related to surgery, treatment, therapy and management. Regular exercise in proper environments has been shown to benefit these patients, enabling them to enjoy better qualities of life despite their diseases. On February 23, 2017, 1:00-2:00 p.m. E.S.T., a dynamic HydroWorx webinar led by presenter Elizabeth McDonald, Director of Therapy Services at Kansas-based Gove County Medical Center, will highlight the value an advanced therapy pool with underwater treadmill pool can bring to those undergoing and recovering from cancer treatment.
From a scientific perspective, many studies have shown a direct correlation between cancer patient improvement and regular exercise:

Researchers evaluating lung cancer patients discovered aerobic and anaerobic exercise promoted strength, flexibility and better breathing.
Referrals for community-based exercise programs were recommended for patients with all types of cancers.
Health-related quality of life (HRQOL) improved in subjects who had cancer and participated in diverse exercises including resistance training, yoga and aquatic exercise for several weeks or months.
HRQOL improved for cancer survivors who entered into exercise programs post-treatment.
Lung cancer patients who participated in aquatic exercise decreased their fatigue levels, improved trunk curl endurance and increased leg strength.
Water exercise proved advantageous to breast cancer patients involved in a scientific trial.
McDonald's webinar, Aquatic Applications for Cancer Rehabilitation, will focus on the many reasons more oncologists and general physicians are pushing patients to get involved in exercise programs. Not only do they recognize that exercise programs encourage stamina but they know they positively affect the way the heart and lungs react to cancer medications and treatments. Because the majority of cancer patients are limited in how much impact they can withstand during exercise and physical therapy, an aquatic therapy environment can provide a more acceptable modality to those who cannot perform traditional land-based therapy during cancer rehabilitation.
Aquatic Applications for Cancer Rehabilitation participants will be introduced to a wide range of topics during the event, including:
How McDonald gradually built her organization's aquatic therapy treatment offerings for cancer patients.
Why aquatic therapy has been injected into cancer recovery programs; namely, the properties of water that elicit positive patient responses.
Which aquatic exercises McDonald recommends when developing cancer rehabilitation protocols.
Attendance is free, but pre-registration. is required to join the live discussion. At the end of the webinar, participants will have the opportunity to ask McDonald questions related to the educational content.
About Elizabeth McDonald
As a CPTA for 21 years, Elizabeth McDonald has been the director of Gove county Medical Center's therapy program for 15 years. She is a member of AACVPR and MOKSAACVPR, and is actively involved in the APTA's Aquatic Section. She received her degrees from Colby Community College and Pima Medical Institute – Tucson. In addition to those degrees, she holds certifications in BLS and ACLS, and is a Falling Less in Kansas trainer.
1 Michaels, Carol. "The importance of exercise in lung cancer treatment." Translational Lung Cancer Research 5.3 (2016): 235.
2 Evey, Jessica. "Point in Time: The Fitsteps for Life Exercise Program Improves Quality of Life of Persons with Cancer." 2014 Annual Conference. Nchc, 2014.
3 Scherer, R. W., et al. "CNCF podcast: exercise interventions on health-related quality of life for patients with cancer during active treatment." International journal of nursing practice 20 (2014): 687-688.
4 Mishra, Shiraz I., et al. "Are exercise programs effective for improving health-related quality of life among cancer survivors? A systematic review and meta-analysis." Oncology nursing forum. Vol. 41. No. 6. NIH Public Access, 2014.
5 Irene Cantarero-villanueva. "The Effectiveness of a Deep Water Aquatic Exercise Program in Cancer-Related Fatigue in Breast Cancer Survivors: A Randomized Controlled Trial - Archives of Physical Medicine and Rehabilitation." Archives-pmr.org, 26 Sept. 2012, http://www.archives-pmr.org/article/S0003-9993(12)00928-8/abstract?cc=y=. Accessed 15 Feb. 2017.
6 Fernández-Lao, Carolina, et al. "Water versus land-based multimodal exercise program effects on body composition in breast cancer survivors: a controlled clinical trial." Supportive Care in Cancer 21.2 (2013): 521-530.
About HydroWorx
Since the late 1990s, HydroWorx has manufactured aquatic therapy products with integrated underwater treadmills to enable rehabilitation professionals to more effectively offer their patients the opportunity to increase range of motion, decrease risk of falls and joint stress, and remain motivated through the rehab process.
Products such as the HydroWorx 2000 and 500 Series therapy pools, along with the HydroWorx 300 system have revolutionized the face of aquatic therapy; in fact, HydroWorx technology is used by world-class facilities such as OrthoCarolina, Cleveland Clinic, Kennedy Krieger Institute, Genesis Healthcare, Neuroworx, Clear Choice Healthcare, PruittHealth, Premier Rehab, Leg Up Farm and many other healthcare facilities across the country.
HydroWorx offers a wide range of underwater treadmill pools and peripheral products and services. Every day, more than 30,000 athletes and patients use HydroWorx technology to recover from injuries and health conditions.
More information about HydroWorx can be found at http://www.HydroWorx.com.