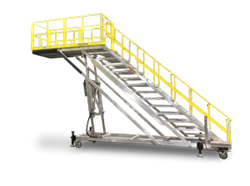 "Our design team developed what we believe to be a superior work stand to give users a better option when requiring adjustable height ranges of as much as 10 feet, while starting as low as 4 feet."
Lewistown, Montana (PRWEB) February 22, 2017
Spika Design and Manufacturing's new product line, the RangerMax Series work platform, offers extreme vertical, cantilevered access without compromised stability. The RangerMax provides critical upper-level access for maintenance and manufacturing facilities that require extreme height adjustability and overreach.
"Users are looking for work stands that can start really low and go really high but don't have the interference of the mechanisms under a scissor lift," says Tom Spika, CEO of Spika Design and Manufacturing. "So our design team developed what we believe to be a superior work stand to give users a better option when requiring adjustable height ranges of as much as 10 feet, while starting as low as 4 feet."
A key component to the RangerMax design is Spika's dual-acting telescopic linear actuator system. This unique design provides greater extension capability while retracting into a compact length. The 120VAC or 12VDC electric actuators provide smooth, predictable extension and retraction, and cannot back-drive or seep from the set extension. These systems are also virtually maintenance-free.
Many existing cantilevered work platforms, by their very design, sacrifice stability due to extreme lengths of overreach from the foremost support points. Side to side sway, as well as "bounce" when working from the deck, increase the farther the platform is from the support points.
"When we designed the RangerMax, we prioritized keeping the front leg support member as close to the center of the load as possible. This allows greater overreach as well as width of the work zone without the feel of instability," says Spika. "We allow the user to define the overreach and width of the deck to meet their needs, and not worry about the technicians feeling apprehensive about stability."
Users have found existing cantilevered work platforms are very difficult to maneuver in tight hangars and work areas, and have the typical issues associated with hydraulic lift systems. Hoses and seals age and deteriorate, causing leakage of hydraulic fluid, and because of aging components, hydraulics have the tendency to "seep", or slowly settle over time. This can create a significant problem when the stands are positioned above vulnerable components or surfaces. These issues increase maintenance costs, but also increase the likelihood of aircraft damage during use.
Spika's standard dual-disc casters allow easy movement of the platform both back and forth and side to side, making positioning simple and easy. High-quality face brakes secure the system during storage, while outrigger jacks lock the stand in place and increase stability during use. The RangerMax complies with OSHA 29 CFR 1910 requirements to ensure safety.
Spika's RangerMax work platform is comparable to the B1 maintenance stands used by DOD and commercial aircraft maintenance facilities but has been designed to improve on the shortfalls of the 1960's design with a focus on ease of mobility, stability, and dependability.
"The existing B series stands have been a mainstay for years for accessing a wide range of heights when a small work deck is needed. Even though users agree these stands are very difficult to position in tight facilities and have a number of undesirable characteristics, we continue to get requests for them because there just hasn't been a better option available," says Spika.
About Spika Design and Manufacturing
Spika Design and Manufacturing Spika Design and Manufacturing is a leading designer and manufacturer of work platforms and MRO equipment for maintenance and manufacturing operations around the world. Spika's design team has years of experience developing products that improve efficiency, exceed safety requirements, and set the industry standard for quality. http://www.spikamfg.com
Watch a video of Spika's RangerMax Series here:
https://www.youtube.com/watch?v=k-YMPEgXQUM
Read a blog about the RangerMax here:
http://blog.spikamfg.com/