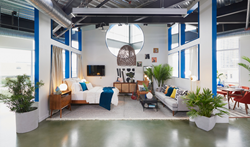 AUSTIN, Texas (PRWEB) February 22, 2017
HomeAway®, the world leader in vacation rentals, featuring more than two million unique places to stay, today launched a nationwide contest aimed at helping up-and-coming tech moguls, musicians and filmmakers with their lodging during SXSW.
HomeAway will give away two four-night accommodations packages, including two nights in the two-story birdhouse located in its downtown headquarters, and two nights in an Austin HomeAway vacation rental. The first package will take place during March 10-14 and the second package will take place during March 15-19. By visiting HomeAway.com/Birdhouse and answering the question, "Why do you want to stay in the Birdhouse during SXSW?" contest entrants should explain how the experience will impact them and what it would mean to their startup, band, film or other creative enterprise.
"Vacation rentals are all about choice," said Kristen Nolte, senior vice president of brand and integrated marketing at HomeAway. "Whether you're looking for a condo, a castle or a two-story human birdhouse, HomeAway has more than two million unique rentals for anyone who wants more space and privacy to relax. A stay in our Birdhouse is a premier opportunity to experience the festival from the city's most exclusive perch during a time when accommodations in downtown Austin can be almost impossible to find."
HomeAway has partnered with the West Elm Austin store (@west_elm_austin) to design and furnish the Birdhouse for the second consecutive year. West Elm Austin's Style + Service experts provided the retailer's complimentary design services to transform the Birdhouse into a tranquil retreat with all of the comforts of home, including mattresses provided by Casper. Inspired by the simplicity of summers in Austin, the Birdhouse with panoramic city views offers winners the chance to experience West Elm's summer collection before it is available through the West Elm catalog March 21.
The winning groups will also receive VIP wristbands for each of Do512' s parties during SXSW.
The Birdhouse, a larger-than-life representation of HomeAway's corporate logo, was built in 2009 as part of HomeAway's global headquarters in downtown Austin. The birdhouse logo was originally chosen to represent a "home away from home," based on the idea that travelers should always have access to the space, privacy and comfort of a whole home, even when traveling.
Contest details can be found at http://www.HomeAway.com/Birdhouse and full contest rules can be found at http://www.homeaway.com/info/about-us/legal/terms-conditions/homeaway-birdhouse-stay-contest-official-rules. Contest entrants must be 21 years of age to enter. Entries must be submitted by Wednesday, March 1, 2017 on or before 11:59 p.m. CST. The two winning groups will be chosen by an independent panel of judges. Winners are responsible for their own travel expenses and must be willing to submit to a criminal background check upon accepting prize.
###
About HomeAway
HomeAway, based in Austin, Texas, is the world leader in vacation rentals with sites representing more than 1.2 million online bookable vacation rental homes in 190 countries, and is a part of the Expedia, Inc. family of brands. Through HomeAway, owners and property managers offer an extensive selection of vacation homes that provide travelers with memorable experiences and benefits, including more room to relax and added privacy, often for less than the cost of traditional hotel accommodations. The company also makes it easy for vacation rental owners and property managers to advertise their properties and manage bookings online. The HomeAway portfolio includes the leading vacation rental websites HomeAway.com, VRBO.com, and VacationRentals.com in the United States; HomeAway.co.uk and OwnersDirect.co.uk in the United Kingdom; HomeAway.de in Germany; Abritel.fr and Homelidays.com in France; HomeAway.es and Toprural.es in Spain; AlugueTemporada.com.br in Brazil; HomeAway.com.au and Stayz.com.au in Australia; Bookabach.co.nz in New Zealand; and in Asia, HomeAway.asia. The company also operates BedandBreakfast.com, the most comprehensive global site for finding bed-and-breakfast properties, providing travelers with another source for unique lodging alternatives to chain hotels. For more information about HomeAway, please visit http://www.homeaway.com
© 2017 HomeAway. All rights reserved. HomeAway and the Birdhouse logo are trademarks of HomeAway. All other trademarks are property of their respective owners.