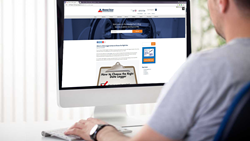 We are excited be bringing more in-depth and user specific content to our readers
Warner, New Hampshire (PRWEB) February 23, 2017
Authored by in-house research and support specialists, the new blog was inspired by and created for data logger customers across many industries. Whether looking to learn more about data loggers or hoping to find answers to common questions pertaining to a specific industry, start with the MadgeTech blog!
The new blog will also have a sleek, new look to keep readers engaged and informed on the topics they care most about. From tip sheets and eBooks, to infographics and videos, MadgeTech strives to keep readers up-to-date on the latest industry trends and talkers. By subscribing to the blog, new and informative content will be delivered directly to your inbox.
"We are excited be bringing more in-depth and user specific content to our readers," says Marketing Director, Margo Bowie, "from wondering what a data logger is, to tips for overcoming compliance hurdles, MadgeTech's Blog will be providing insight for industry professionals at all levels."
MadgeTech's popular news articles will still be published daily, in addition to the new blog content which is aimed at industries that rely upon data loggers for everyday operations.
To check out MadgeTech's new blog, click here.
Have a specific question or idea for a blog post? Feel free to email us at marketing(at)madgetech(dot)com.