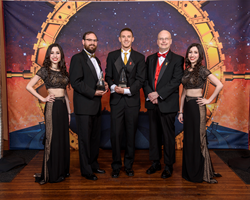 Los Angeles, CA (PRWEB) February 22, 2017
Organizers of the 33rd annual L. Ron Hubbard Writers and Illustrators of the Future Achievement Awards announced that the gala event will be held at the Wilshire Ebell Theatre on Sunday, April 2, with doors opening at 5:30 PM and event starting promptly at 6:30 PM. The giants of speculative fiction will be on hand to recognize and award the best new Science Fiction and Fantasy writers and artists of 2016.
Those attending will include Writers of the Future contest judges Kevin J. Anderson, Doug Beason, Gregory Benford, David Farland, Eric Flint, Nina Kiriki Hoffman, Nancy Kress, Todd McCaffrey, Rebecca Moesta, Larry Niven, Jody Lynn Nye, Nnedi Okorafor, Jerry Pournelle, Tim Powers, Mike Resnick and Robert J. Sawyer. An equally impressive roster of Illustrators of the Future contest judges including Echo and Lazarus Chernik, Ciruelo, Dave Dorman, Larry Elmore, Val Lakey Lindahn, Sergey Poyarkov and Rob Prior will also be on hand.
Robert J. Sawyer, just named recipient of the 2017 Robert A. Heinlein Award given for "outstanding published works in science fiction and technical writings that inspire the human exploration of space," in addition to his several other prestigious awards he has won, was recently asked his thoughts on the Writers of the Future program. He stated, "Writers of the Future is the premier crucible for new talent in the SF/F field; the track record of discovering and mentoring people who went on to be established names is astonishing."
Sawyer has been a judge for Writers of the Future since 2008 having entered the Contest himself multiple times as a novice and experienced first-hand the value of the program. He concluded, "And when you consider who the judges are -- including Larry Niven, Jerry Pournelle, Gregory Benford, and more -- this has to be the most-distinguished panel ever assembled in this field: the best of the established writers choosing the best newcomers."
For more information about attending the Writers of the Future Awards ceremony, go to http://www.writersofthefuture.com.