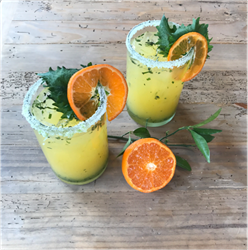 I suggest using Premium Silver Tequila for the Agave Wine and Cointreau for the Agavero when celebrating National Margarita Day. -Sunrise Springs Spa Resort Executive Chef Rocky Durham
Santa Fe, New Mexico (PRWEB) February 22, 2017
Ojo Caliente Mineral Springs Resort & Spa and its sister property, Sunrise Springs Spa Resort, announce two new unusual margaritas made especially for National Margarita Day, which takes place annually on February 22. Ojo is featuring its Agave Wine Margarita plus new infusions of prickly pear, jalapeno, strawberry, mango and spicy ginger. Sunrise Springs Spa Resort's Executive Chef, Rocky Durham has created an edible cocktail especially for this event: The Sunrise Springs Shiso Yuzu Margarita.
Like tequila, agave wine comes from the Webber blue agave plant, which takes up to ten years to mature before they're harvested. The process of making agave wine starts the same way as tequila—the mature agave plants are cooked to release sugars and the aguimel is then extracted using molinas, or, crushers. The aguimel is fermented, and instead of distilling to make tequila, the aguimel is filtered and mixed with 100% de agave blanco tequila to fortify the wine to 24% ABV.
Agave Wine Margarita
Yield: 1 ½ Gallons
3 Bottles Agave Wine
½ Gallon Lime Juice
2 Bottles Triple Sec
Sunrise Springs Spa Resort's Shisho Yuzu Margarita is filled with bright citrus and incorporates an Asian fruit growing in popularity in North America called Yuzu. Mainly cultivated in Japan, China and Korea (where it's often combined with sugar and honey to make a marmalade-like syrup used in yujacha tea), Yuzu has a fragrant aroma and refreshing flavor that's less tart than its citrus counterparts. The spiky, dark Shisho leaves, another Asian inspired component, offers up an almost minty counterpoint to the citrus elements. Some might say Shisho is like basil or even cilantro. The result is supremely refreshing.
Shisho Yuzu Margarita
Serves 4
4 to 6 Shisho Leaves
3 T. Granulated Cane Sugar
2 Yuzus, Juiced and Zested
2 Limes Juiced
1 Lemon Juiced
6 oz. Agave Wine
3 oz. Agavero
Ice
¼ cup Kosher Salt
Yuzu slices and Shisho leaves for garnish
1. Zest Yuzus, mix with kosher salt and place on a small plate or saucer.
2. Thoroughly muddle sugar and shisho together until a green paste is achieved.
3. Combine with remaining ingredients, 1 cup of ice and shake very well.
4. Rub rim of glasses with Yuzu to moisten and place rim into yuzu-salt mixture.
5. Fill glasses with Ice and pour in margarita.
6. Garnish and serve
We'd like to add that at home, Chef suggests using Premium Silver Tequila for the Agave Wine and Cointreau for the Agavero.
FOR MEDIA INQUIRIES:
Jennifer Hobson-Hinsley
505 603 8643
Jennifer(at)jlhmedia(dot)com
###
ABOUT OJO CALIENTE MINERAL SPRINGS RESORT & SPA: Opened in 1868, and celebrating it's 150th Anniversary in 2018, Ojo Caliente Mineral Springs is one of the oldest natural health resorts in the United States, and the only hot springs in the world with a remarkable combination of four different sulfur-free mineral waters. Deemed sacred by the Native American tribes of Northern New Mexico, Ojo's legendary waters have been soothing mind, body and spirit naturally for thousands of years. The 1,100-acre resort features enchanting suites and charming cottages, a historic hotel and private homes. The full-service spa offers a wide array of restorative therapies including nurturing massage and rejuvenating body treatments. In The Artesian Restaurant and Wine Bar, the chef incorporates Ojo's farm-grown herbs, fruits and vegetables into his global cuisine. Ojo Caliente Mineral Springs is located one hour north of Santa Fe and 45 minutes south of Taos, New Mexico. http://ojospa.com
ABOUT SUNRISE SPRINGS SPA RESORT: The only destination spa in enchanting Santa Fe, N.M., Sunrise Springs Spa Resort is a tranquil natural springs sanctuary that has been a source of rejuvenation for centuries, weaving ancient wisdom and healing traditions with modern wellness. At the heart of the resort's 70 acres is a sacred Medicine Wheel surrounded by 20 spacious casitas and 32 guest rooms; the new Ojitos, open-air soaking experience; a spa; a greenhouse; yoga, fitness and expressive arts studios; puppy studio and chicken coop; and two restaurants serving nourishing farm-fresh cuisine. A passionate team of credentialed wellness professionals and Thrive Guides empower guests to discover their unique path to creating harmony amongst the four aspects of wellbeing: mental, emotional, physical and spiritual. All-inclusive packages range from rejuvenating day escapes to multi-day transformative experiences. Guests can also visit the nearby historic sister property, Ojo Caliente Mineral Springs Resort & Spa just north of Santa Fe. http://sunrisesprings.com