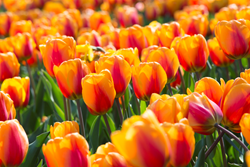 INDIANAPOLIS (PRWEB) February 27, 2017
Discover an ocean of color this spring at the Indianapolis Museum of Art with Spring Blooms: Celebration of Color, from March 31 through May 31. Immerse yourself amongst the flowers and take in the wonderful aromas of the most beautifully curated gardens in Indianapolis.
Experience the IMA campus as never seen before with a record 250,000 spring blooms. This fall, IMA staff and volunteers planted 150,000 new bulbs throughout the gardens, creating the largest spring display in IMA history. When combined with the existing plantings that grace IMA's Oldfields estate, the total comes to an astounding 250,000 bulbs, all ready to burst into bloom. As daylight increases the bulbs will grow, along with garden hours. Enjoy the new spring gardens during regular IMA hours, as well as newly expanded hours in the gardens on Thursday through Saturday evenings until 9 p.m.
The garden exhibition will be filled with favorites such as tulips, daffodils, hyacinths, irises and pansies, as well as rare Himalayan Blue Poppies that were started from seed in Alaska for the IMA. Guests are invited to explore the beautiful scenery through a new garden path. Every twist and turn will be filled with glorious color and spectacular views of the historic Oldfields estate. The path will feature five new gardens. Presented by Tom and Nora Hiatt, Alice's Garden, a dramatic pop-up garden recognizing longtime volunteer and supporter of the IMA Alice McKinney, transforms the former parking lot at the Madeline F. Elder Greenhouse into a verdant retreat.
Take in the scenery and sip on a drink in the new Beer Garden this spring. Presented by Marya and Tony Rose, this garden oasis will be located just outside the Elder Greenhouse. Sit and stay a while, or take a drink with you for a stroll through the gardens and enjoy the nature in all its glory. The Beer Garden will feature an exclusive beer from Sun King Brewing Co., only available at the IMA. Also on tap will be an imported beer, wine and a Triton Brewing Co. root beer. Soft pretzels from Pat's Philly Pretzels and a snack mix will also be served.
Additional garden tours will be available, including a Historic Tour, a Spring Blooms Garden Tour and a new Five Senses Garden Tour. For information on tour dates and times visit the IMA website. On March 30, take an in depth tour and receive a behind the scenes look through the Gardens with Chad Franer, IMA's director of horticulture.
Celebrate opening weekend for all things spring at Family Day: Flowers & Feathers on April 1 from 11 a.m. to 3 p.m. Enjoy activities for the whole family by listening to seasonal music, creating your own felt birdhouse at the Elder Greenhouse and exploring spring blooms around campus.
Lead support for Spring Blooms: Celebration of Color is provided by Tom and Nora Hiatt, Tony and Marya Rose, and Gay and Tony Barclay. Additional support is provided by Bob and Toni Bader, Milly Brehob, A. King's Art Studio and Gallery, Joyce Pruitt, Sun King Brewing Co., and Robert and Catherine Turner. Promotional sponsorship is provided by WTHR-13. In-kind support is provided by Kornegay Design. This project is made possible by a generous gift from Lilly Endowment, Inc.
After traveling the gardens outdoors, explore nature through art inside the galleries. The exhibition Audubon: Drawn To Nature will feature lifelike prints of Birds of America by John James Audubon. Paula McCartney: Bird Watching showcases the work of contemporary photographer Paula McCartney who draws inspiration from Victorian botanical journals. The Birds of Céleste Boursier-Mougenot: A Film by Ariane Michel features a video installation depicting a gallery transformed into an aviary filled with musical instruments.
More nature on the way this summer
FORE! Mini Golf at the IMA is back for a second year. This Memorial Day, tee off on the IMA's own artist-designed mini golf course. This year's new course features 18 holes inspired by the beauty of nature, with three holes returning from last year. Afterwards, grab a drink or snack at the clubhouse before visiting the galleries and gardens.
For more information about upcoming spring events, visit http://www.imamuseum.org.
About the Indianapolis Museum of Art
The Indianapolis Museum of Art (IMA) is located on a 152-acre campus of lush gardens, historic homes, outdoor sculptures, inspiring performance and gallery spaces. Founded in 1883, the IMA is among the 10 oldest and 10 largest encyclopedic art museums in the United States and features significant collections of African, American, Asian, European, contemporary art and design arts that span 5,000 years of history. With innovative programming to engage guests of all ages, the IMA offers a variety of interactive experiences inside the galleries, throughout the campus and within the local community. From gardening demos in the Madeline F. Elder Greenhouse to outdoor film screenings in the IMA Amphitheater to community celebrations in The Virginia B. Fairbanks Art & Nature Park: 100 Acres, guests are invited to interact with art and nature in exciting new ways at the IMA. Along with the Indianapolis campus, the IMA also owns the Miller House and Garden in Columbus, Ind., one of the nation's most highly regarded examples of mid-century Modernist residences. For more information visit http://www.imamuseum.org.