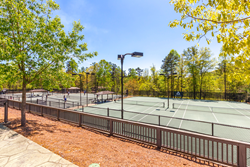 2017 Bliss Award Winner - Best Tennis Community of the Year
Atlanta, Georgia (PRWEB) February 24, 2017
Cascading waterfalls, apple orchards and the most affordable mountain towns in the South. Ask anyone who's spent time in the North Georgia Mountains and they'll likely agree, this is one of the most beautiful places to live in the state of Georgia. The air is clean and the evergreen forest exhilarating. It's a place of comfort and wellbeing surrounded by scenic beauty.
What started out as a weekend and vacation escape for Atlantans back in the early 1970's, Big Canoe in Jasper, Georgia has evolved into a stunning residential mountain community filled with resort-style amenities, attracting families of all ages affirms Real Estate Scorecard. It spreads across 8 mountains with 22 miles of nationally acclaimed hiking trails within its gates. Neighborhood amenities include three fresh water lakes, 27 holes of mountain golf, a stunning lakefront clubhouse and a comprehensive fitness center with all the bells and whistles. Approximately 2,650 homes have been built to date of the 4,650 planned. A property owner shares "we moved to Big Canoe from Atlanta and love the lifestyle. I have to pinch myself to believe I live in such a beautiful place."
Big Canoe also has the finest tennis facility Real Estate Scorecard has seen in the Blue Ridge Mountains, with both indoor and outdoor modern courts. Players can engage 365 days a year in competitive tennis tournaments such as the "Battle of Big Canoe" or laid back tennis mixers and round robins. The Racquet Club at Big Canoe provides activities for all ages and skill levels. Play day or night, winter or summer. Canoe kids say the summer tennis camps are a ball. An adult property owners says "it's like living in an adult Disney World, we love it!"
There are more than 300 active players in the tennis club. Players can choose from a total of 10 courts at the Big Canoe real estate development:

4 Har-Tru Clay Courts (Outdoor)
2 ClayTech All-Weather Courts (Outdoor)
2 Hard Courts (Outdoor)
2 Indoor Courts
6 of the 8 total Outdoor Courts are lighted, and 4 are specifically designated for lighted Pickleball play. The large stone patio at the Racquet Club has ample room for family and friends to gather while watching tennis and pickleball players on the courts. One of the most unique features about Big Canoe is their à la carte-style amenity fee program; folks only pay for what they want to use. Annual tennis membership fees range from $66.20 (Single rate) to $111.60 (Family rate) per month. Pickleball annual membership fees range from $37.45 (Single rate) to $64.10 (Family rate). There are also Couple rates for each sport. Private and group lessons, taught by USPTA certified teaching professionals, are available seven days a week.
Racquet Club Annual Memberships pay a monthly fee, but no court fees. These members get unlimited court time, priority play for tournaments and/or special events, and they also get 20% off of merchandise at the Tennis Pro Shop. One can only qualify for annual membership rates if they're a property owner. Annual tennis membership fees range from $66.20 (Single rate) to $111.60 (Family rate) per month.
If folks are a property owner but don't have/want an annual membership, they can pay as they play (BIG PERK to Big Canoe's overall à la carte amenity format). No mandatory expensive memberships when you live at Big Canoe; folks only pay for what they want to use. Check this out! A Pickleball Annual Membership is only $37.45 - $64.10 with property owner court fees at $20 an hour.
Pickleball is the latest tennis obsession rallying across America and the folks at Big Canoe love it too. It's a lower impact sport, the courts are shorter and anyone can play with minimal instruction. For newbies, beginner's pickleball clinics are held every Thursday. There are even outdoor grills built in; perfect for special events or casual outdoor gatherings.
It may be cliche', but folks know when they look good, they feel good. There's no need to leave the Big Canoe real estate development for the latest tennis fashions for both women and men. At the Tennis Pro Shop, residents will find tennis-wear by Tail, Wilson, Prince, Boast and Head, as well as a full line of accessories, shoes and a full line of Head racquets. Professional stringing and racquet customization services are also available. And for beginners, or for those who want to improve upon their game, there are private and group lessons seven days a week, taught by USPTA certified teaching professionals.
If folks appreciate high quality tennis clubs like Real Estate Scorecard does, they encourage folks to explore the friendly tennis club of Big Canoe. Don't be surprised if a weekend at Big Canoe becomes a forever destination in one of the most affordable mountain towns in the South. While folks are there, explore long-range, mountain-view homes (with views of the Atlanta skyline on a clear day), golf course estates or cozy villas and rustic cottages on a lake. Home sites are available from $40,000 to $300,000+, and new and resale homes range from $200,000 to $3,000,000+
"Many communities have tried to replicate Big Canoe and simply can't. It is truly a diamond in the rough and the best kept secret in the country. Big Canoe is awesome!" says another property owner.
Real Estate Scorecard gives Big Canoe a standing ovation and one of their coveted Bliss Awards for their continued high quality amenities and fun tennis programs. Big Canoe is the 2017 Best Tennis Community of the Year.
To schedule a visit, call Big Canoe directly at 866.244.2266 and be sure to ask about their Discovery Package availability.
About Real Estate Scorecard:
Real Estate Scorecard writes unbiased real estate reviews providing in-depth information about popular gated communities in Florida, Georgia, the Carolinas and Tennessee and Central America, all in an effort to help people discover where to retire in the South.
Website: http://realestatescorecard.com