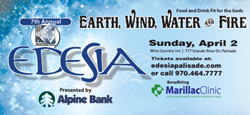 Palisade, CO (PRWEB) February 27, 2017
The Seventh Annual Edesia Announces this year's Chef instructor's and theme for culinary delight. Presented by Alpine Bank, with St. Mary's Medical Center and Jack Daniel's Family of Fine Whiskeys, Edesia shines a spotlight on the wine, spirits and fine cuisine offered in the Grand Valley and benefits Marillac Clinic, which serves uninsured and under-insured patients in the Grand Valley.
This year on April 2, 2017, Edesia will feature an elite VIP chef's table luncheon from 11 - 1 p.m. Popular local Chef/Instructors from the Western Colorado Community College will create an imaginative cuisine to be served in the Vineyard Ballroom at the Colorado Wine Country Inn. Chef/Instructors Wayne Smith, Deb Henderson, Jon St.Peter and Beth Branscum will focus on a Greek theme of Earth, Wind, Water and Fire to bring a unique experience to your palate. These chefs will be preparing dishes for the V.I.P. luncheon as well as presenting to the public in the open event and live culinary demos from 2 - 5 p.m.
The main Edesia event will feature vendor booths, celebrity chef demos, live music, food, wine and spirits. Tickets can be purchased to this one-of-a-kind culinary adventure for $65. If you are interested in the V.I.P. luncheon, tickets are still available for $125 per person. All tickets can be purchased online by visiting: http://edesiapalisade.com/event-details
There is still some space available for vendors to participate.Local restaurants, wineries are welcome to participate. There are no vendor fees except the samples and tastings that are provided for guests. Estimated participation is between 300-400 guests. To inquire, contact: The Colorado Wine Country Inn at 970-464-5777.
Media sponsors are KKCO 11 News, the Vault 100.7, Magic 93.1 and the Business Times of Grand Junction
Edema's other sponsors include: Alpine Bank, Jack Daniel's Family of Fine Whiskeys, St. Mary's Medical Center, Eagle River Assoc., Suzi Production, Shamrock Foods, Peczuh Printing, FCI Constructors, Absolute Prestige Limousine Service, Whitewater Building Materials, Shaw Construction, Office Outfitters, Rocky Mountain Health Plans, Oakley/Wanebo/Mendenhall/Love, Dalby Wendland & Co. , Event Production, Hoskins, Farina & Kampf, Dasani (Swire), Farmer Brothers, Co., Country Elegance Florists, Your Sign Co. Your Way Safety & Sign Supply, The Palisade Chamber of Commerce, The Town of Palisade and the Wine Country Inn.