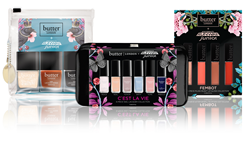 As a brand we are always inspired by creativity and colour, so it was such a joy to bring her aesthetic to life in this vibrant beauty collection. - Sarina Godin, butter LONDON President
New York, NY (PRWEB) February 24, 2017
butter LONDON, the prestige colour cosmetics and nail lacquer brand and official makeup sponsor of Project Runway Junior Season 2, has teamed up with the winning designer, Chelsea Ma, to co-create a limited edition colour collection inspired by her winning designs, as part of her prize package.
At just 15-years old, Chelsea captivated the fans and impressed mentor and Emmy® Award winner Tim Gunn and the celebrity judges panel, including supermodel Hannah Jeter, fashion critic and designer Kelly Osbourne, fashion designer and former Project Runway winner Christian Siriano and Aya Kanai, Executive Fashion Editor at Seventeen Magazine and Cosmopolitan, with her one-of-a-kind, fashion forward designs, demonstrating a level of sophistication and experience far beyond her years.
"Chelsea is a talented young designer with a unique creative vision," says butter LONDON President, Sarina Godin. "As a brand we are always inspired by creativity and colour, so it was such a joy to bring her aesthetic to life in this vibrant beauty collection."
"Chelsea's design aesthetic is badass, just like her," says Kanai. "She envisions a world of strong, self-possessed women who look great while taking over the world. Sign me up!"
Chelsea's winning collection showcased in the finale episode was inspired by an animated short film set in the future with a heroine who embodies a mix of hard and delicate characteristics. Chelsea infused this concept into a beautiful nail and lip collection featuring a juxtaposition of both deep and soft, feminine shades.
"Working with butter LONDON was a one of a kind experience," says Chelsea. "It felt special and empowering creating these three unique makeup kits. The collection is a pure collaboration between reality and a technological fairytale feeling."
The limited edition collection features butter LONDON's award-winning Nail Lacquer and Plush Rush Lip Gloss formulas:
C'est La Vie 6-Piece Nail Lacquer Collection ($29, Launching February 2017)

8-Free, highly pigmented nail colour
Includes: Peace (Soft Ballet Pink), Heal (Sheer Peachy Pink), Honor (Dusty Warm Lavender), Birth (Robins Egg Blue), Hope (Bubblegum Pink), Rebuild (Matte Dark Blue)
Peace of Armor 3-Piece Nail Lacquer Collection ($19, Launching February 2017)

8-Free, highly pigmented nail colour
Includes: Union Jack Black (Black Crème), Strength (Matte Burnt Red Crème), Delicate (Soft Peachy Nude with White Textured Glitter)
Fembot 4-Piece Plush Rush Lip Gloss Collection ($19, Launching February 2017)

Plumping, luscious lip colour with an addictive champagne scent
Includes: Fireworks (Shimmering Golden Pink), Dance Party (Shimmering Coral), Birthday Suit (Perfect Nude), Siren (Rich True Red)
The limited edition butter LONDON + Project Runway Junior collection launched following last night's finale on butterLONDON.com and will also be available on Ulta.com and Nordstrom.com.
Throughout the season, Project Runway Junior contestants visited the butter LONDON beauty room to work with celebrity makeup artist, Scott Patric, creating beauty looks to complement their runway designs. In addition to the fully-branded beauty room, butter LONDON was featured in a dedicated design challenge episode inspired by the brand's positioning as Pure, Posh & Playful.
About butter LONDON: Founded in 2005 by a beauty-obsessed British entrepreneur and London's premier fashion manicurist, butter LONDON catapulted into the runway world bringing a refreshingly hip & haute fashion sense to nails. This trailblazing luxury approach – fueled with a better-for-you ingredient philosophy – quickly made butter LONDON the first world-renowned, high-fashion 3-Free nail lacquer brand. Today we continue to create innovative, imaginative, good-for-you products for eyes, lip, face, and nail using the same ingenious Crafted with Care™ approach to formulations. We believe playful is beautiful and we encourage you to live a little with lively luxe products you can trust. We are makeup royalty…and we wear it very well.
About Project Runway Junior: Project Runway Junior, returns with a new generation of fashionistas looking for an opportunity to launch their fashion careers. Emmy® Award winner Tim Gunn and fellow co-host, supermodel Hannah Jeter, are once again joined by returning judges; fashion designers Kelly Osbourne and Christian Siriano and Seventeen Magazine and Cosmopolitan Executive Fashion Editor, Aya Kanai to find the freshest force to be reckoned with in the fashion world. Ages 13 to 17, these Project Runway Junior designers prove amazing talent develops at a young age. Disney Channel actress and singer Olivia Holt (Kickin' It) joins the judges for the finale to help select the winner.