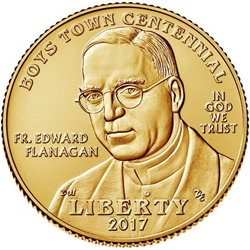 Washington, D.C. (PRWEB) February 24, 2017
WHAT:
The United States Mint will hold a ceremony to officially open sales of the 2017 Boys Town Centennial Commemorative Coin Program. Public Law 114-30 directs the Mint to strike and issue up to 50,000 five dollar gold coins, 350,000 silver dollar coins and 300,000 half dollar clad coins to commemorate the 100th anniversary of Boys Town.
Coins in the program will be available for purchase at the venue following the event. Surcharges collected from all coin sales are authorized to be paid to Boys Town. Since 1917, Boys Town's has given thousands of at-risk children the love, support and education they need to succeed.
WHEN:
2 p.m. ET, Thursday, March 9
WHERE:
The Liaison Capitol Hill
Metropolitan Ballroom
415 New Jersey Ave NW
Washington, DC 20001
WHO:
Dave Motl, Acting Principal Deputy Director, United States Mint
Rev. Steven E. Boes, President and National Executive Director, Boys Town
Dr. Jerry Davis, Vice President, National Advocacy and Public Policy, Boys Town
About the United States Mint
The United States Mint was created by Congress in 1792 and became part of the Department of the Treasury in 1873. It is the Nation's sole manufacturer of legal tender coinage and is responsible for producing circulating coinage for the Nation to conduct its trade and commerce. The United States Mint also produces numismatic products, including proof, uncirculated, and commemorative coins; Congressional Gold Medals; and silver and gold bullion coins. The United States Mint's numismatic programs are self-sustaining and operate at no cost to taxpayers. The Mint is celebrating its 225th anniversary in 2017 (#USMint225).
Additional Resources

# # #
United States Mint - Connecting America through Coins