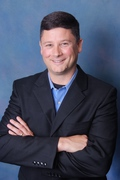 No other real estate firm offers such a well-respected brand, strong compensation benefits, and fast-paced growth.
RESTON, VA (PRWEB) February 25, 2017
Todd specializes in guiding clients with their home sales or purchases in Loudoun, Fairfax, Arlington and Prince William counties.
An Accredited Buyers Representative and Certified Distressed Property Expert, Todd prides himself in his consultative approach to assisting clients.
"I listen to each client so I can fully understand their unique set of circumstances, and design a solution to solve the challenges they face," Todd said. "I simultaneously ensure that my clients' home search is done as efficiently as possible utilizing all available technology while representing their interests throughout every aspect of their home purchase."
"We are excited to welcome Todd Cerino to PenFed Realty," Mid-Atlantic President and CEO Kevin Wiles said. "Todd has a commitment to service and professionalism that aligns perfectly with our vision and values."
With 16 years of experience, Todd wanted to join a fast-growing company that strives for excellence. "No other real estate firm offers such a well-respected brand, strong compensation benefits, and fast-paced growth," said Cerino.
Capping a record-breaking year, PenFed Realty saw unprecedented sales volume growth of 34.2% in comparison to an average growth of 9.63% across the industry according to MarketStats by Showing Time (using MRIS statistics calculated January 5, 2017). PenFed Realty is recognized for their globally respected brand, one-on-one coaching approach, industry-leading compensation plans, and consistent growth.
About Berkshire Hathaway HomeServices PenFed Realty
Berkshire Hathaway HomeServices PenFed Realty is a full-service real estate company with annual sales volume of $3.9 billion with 1,800 sales agents and 50+ offices providing complete real estate services nationwide. PenFed Realty is a wholly-owned subsidiary of PenFed Credit Union (PenFed). PenFed is a financial institution with $21 billion in assets and more than 1.5 million members. PenFed Realty is also a member of the Berkshire Hathaway HomeServices brokerage network, operated by HSF Affiliates LLC. Visit PenFedRealty.com. Equal Opportunity Employer: m/f/v/d. Equal Housing Opportunity.
###