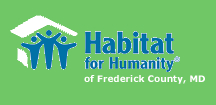 Frederick, Maryland (PRWEB) March 01, 2017
The Habitat for Humanity of Frederick County ReStore is pulling up roots and making a move to 917 N. East Street in Frederick. After more than five years, the store will move out of its current location on N. Market Street in April and open its doors a short distance away on N. East Street in a larger location to better serve customers, donors and volunteers.
The store's new East Street location, previously occupied by HobbyTown USA, has sat vacant for 3 years but Habitat looks forward to breathing new life into the building with a busy store. A brief facelift to the store is already underway with the help of staff and local vendor partners aiding with building offices for the ReStore staff, laying new flooring, erecting shelving for product and adding the Habitat brand. In keeping with the ReStore's aim to reduce waste, the organization is using gently used and recycled materials in as many ways as possible to complete these tasks. The overall work being completed on the store is minor as the existing open layout of the building provides an ideal setting for the ReStore. "Having this open layout greatly improves the way we serve our customers" remarked Habitat's ReStore Director, Dean Jacoby. "We'll have wider aisles, a bigger lighting room, sample rooms to show how you can set up merchandise, and a layout that lets you see more of the store at one time." Shoppers aren't the only ones who will benefit from the new location. The rear entrance to the store includes a loading dock and area for receiving donations from the local community which will streamline the donation process for businesses and individuals donating furniture, construction materials and general household wares.
The ReStore is a resale store run locally by Habitat for Humanity of Frederick County that emphasizes reusing, renewing and recycling goods. Donations of overstocked, discontinued and used quality building materials, home improvement items and furnishings are available for sale to the public at the store. The revenue generated by the sale of these items provides funding for the local Habitat for Humanity affiliate. In addition to benefitting customers and donors, the new ReStore location is projected to increase the store's revenue, which will provide a growth opportunity for Habitat and the ability to complete more building projects in Frederick County for people in need of a safe and decent place to live.
About Habitat for Humanity of Frederick County:
No matter who we are or where we come from, we all deserve to have a decent life. We deserve to feel strength and stability day after day. We deserve to know we have the power to take care of ourselves and build our own futures. At Habitat for Humanity, this is what unites us. Through shelter, we empower. Our shared vision is a world where everyone has a decent place to live. Because you, me, we - we're all humans. And every single one of us deserves the opportunity for a better future.
Mission: Seeking to put God's love into action, Habitat for Humanity brings people together to build homes, communities and hope.