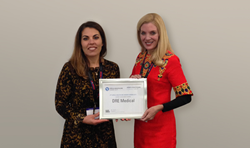 DRE has worked tirelessly to become Africa's most trusted source for high quality medical equipment. We are truly honored to win this award. " -Kary VanArsdale, Director of International Operations
Louisville, KY (PRWEB) March 01, 2017
DRE Medical — a leading provider of new and refurbished medical equipment — was recognized for its innovative achievements in the international medical equipment market. The company is pleased to announce it was chosen to receive the Export Achievement Award for Africa at the 2017 Africa Healthcare Summit in London.
Companies across the globe were considered for this award. An expert panel of high-ranking medical professionals from private and government healthcare sectors in Africa judged the entrants.
Serving customers in more than 150 countries, DRE has provided affordable medical equipment to clients in Africa since 1984.
"DRE has worked tirelessly to become Africa's most trusted source for high quality medical equipment," said Kary VanArsdale, Director of International Operations for DRE Medical. "We are truly honored to win this award."
In addition to participating in multiple medical trade shows for Africa, DRE has created microsites customized to meet the specific needs of doctors and surgeons in key African countries. The DRE Nigeria website was launched in 2016 and the new DRE Ghana site was just introduced in February 2017.
Customers seeking to partner with DRE can visit these country-specific websites for key information on medical equipment offerings, client references, and distribution opportunities. Website visitors can also browse detailed customer profiles from hospitals and clinics in each country.
To learn more about DRE Medical, visit http://www.dremed.com.
About DRE Medical
Since 1984, DRE has been a single-source supplier for all major operating room equipment and surgical equipment. Inc. magazine named DRE to its annual Inc. 5000 list of the nation's fastest-growing companies for three consecutive years. DRE, Inc. is based in Louisville, Ky.