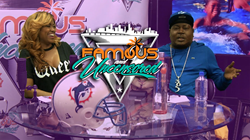 Miami, Florida (PRWEB) February 28, 2017
Listen and watch as the "Famous and Uncensored" podcast discusses everything from music to  movies. Rappers including Jim Jones and Lil Scrappy as well as former NFL football players such as Chad "OchoCinco" and Bryant McKinnie are set to appear on this platform. "Famous & Uncensored" will feature more widely known figures from the  hip-hop and sports communities as well as a handful of sexy models and influencers.  
Internationally known rapper, Trick Daddy hails from Miami, Florida.  On the "Famous and Uncensored" podcast rapper Trick Daddy brings the raw gritty and uncut version of his take on being famous and as the title predicts uncensored.  Trick Daddy no doubt, tells it just the way he see's it on this platform. Supa Cindy is a veteran of the broadcast community and is a correspondent for the nationally syndicated "The Rickey Smiley Morning Show". Supa Cindy's name recently appeared on Rick Ross and Scrilla's high-profiled single "Supa Cindy," which was released by Epic Records and CinD Media.  
More episodes of Trick Daddy's "Famous & Uncensored" are coming soon.
For more information, advertising, sponsorships, or if you would like to be a guest on Trick Daddy's Famous & Uncensored Podcast, e-mail: TrickDaddysPodcast(at)gmail(dot)com