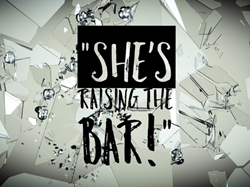 "Pushing the agenda of women's empowerment front and center"
New York, NY (PRWEB) February 28, 2017
Kicking off Women's History Month, the popular internet radio show the Bridal Body Shop will become She's Raising the Bar. The redesigned program will expand on the core of women's empowerment heard in the original, a show primarily focused on the fitness of brides-to-be. She's Raising the Bar will present a wider forum for women's sense of self, strength and standing, through perspectives physical, emotional and socio-political. Co-hosts Laurie Towers and Elite Ziegelman will engage an array of guests, both female and male, on pertinent topics that fuse the strengthening of the body to that of the mind.
The Bridal Body Shop concept and show are adjunctive to Towers' own Physical Advantage PC, an award-winning sports massage center lauded for a clientele of professional athletes, dancers and performing artists. Developed in concert with fitness specialist Ziegelman, the successful radio program broadcast each week starting April 28, 2013. While the show was designed for the fitness concerns of brides-to-be ("It's a dress for a day, but a body for a lifetime"), the strengthening of one's self-image was always at center. Whereas the original show featured health and fitness tips and interviews with professionals of both the bridal and fitness industries, it also engaged in topical and often humorous discussion. She's Raising the Bar, however, will push the agenda of women's empowerment to front and center. "Much of this will still concern physical fitness", Towers stresses, "Because strength of body and mind are thoroughly inter-connected. But we now have a forum well beyond issues of brides and wedding prep anxiety. She's Raising the Bar speaks to the shattering of the glass ceiling women have always been confronted with". However the humorous exchanges between the co-hosts will still be as much a part of this show as before.
Physical Advantage PC can boast over twenty years of international accolades in print, online and broadcast media. The practice has been awarded the "Best of New York" by New York magazine five times and has been featured in Vogue, Allure, Vanity Fair, Fox 5 NY television, the New York Daily News, Glamour, Los Angeles radio, the New York Post, Tokyo Broadcasting television, Time Out NY, Gotham, Picky's (Japan), Newsday, Men's Fitness RX, Shecky's NY, WDST-FM Radio Woodstock as well as the Paris and London editions of Vogue, among others.
Physical Advantage is located on the Upper East Side in the penthouse of 139 East 57th street, New York NY 10022, telephone (212) 460-1879, physicaladvantage@aol.com. See http://www.PhysicalAdvantagePC.com for further information.
She's Raising the Bar debuts on Wednesday March 1 at 1PM. Listeners can tune in via http://www.BlogTalkRadio.com/ShesRaisingtheBar
Press contact:
New Masses Media Relations
John Pietaro (646) 599-0060
NewMassesMedia(at)gmail(dot)com
# # #