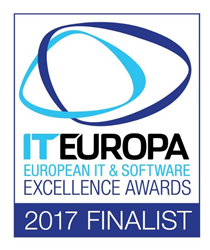 "We're thrilled and honored to again be recognized by IT Europa as one of the top enterprise and SME solutions throughout Europe." ~ Christian Blume, CEO, cleverbridge
Cologne, Germany (PRWEB) March 01, 2017
cleverbridge, a provider of global subscription billing solutions, announces IT Europa has named cleverbridge a finalist for two 2017 European IT and Software Excellence Awards. cleverbridge was selected as a finalist for Enterprise Solution of the Year for the second consecutive year, as well as for Small and Medium-sized Enterprise (SME) Solution of the Year. Winners for the leading pan-European awards for ISVs, solution providers, systems integrators and their vendor and distributor partners will be announced at a gala event on March 30 at the Royal Garden Hotel in London.
Now in its 9th year, the European IT & Software Excellence Awards attracted over 500 entries from more than 28 countries. The awards recognize IT solutions that get to the heart of customer issues – delivering better business, a clearer understanding of data, and more efficient and profitable outcomes. The judges, with decades of IT industry experience between them, arrived at a list of finalists that they believe truly reflects both the strength of Europe's IT industry and many of the changes occurring within it. The Enterprise Solution of the Year award recognizes solutions for larger organizations that have transformed their operations, process or go-to-market strategy, while the SME Solution of the Year award recognizes IT solutions provided to organizations with fewer than 250 employees.
"We're thrilled and honored to again be recognized by IT Europa as one of the top enterprise and SME solutions throughout Europe," said Christian Blume, CEO, cleverbridge. "As more companies expand online globally, they realize that basic payment processors or subscription management solutions can not only limit them as they enter new markets, but worse, become a liability when it comes to things such as compliance, taxation, customer support and fraud prevention. Our award selection validates this point and cleverbridge's efforts over the last 12 years to consistently be the leading global ecommerce and subscription billing solution for digital goods, online services and SaaS companies."
cleverbridge was recently named in the "Accel EuroScape", a list of the top 100 most promising SaaS companies in Europe and Israel. The company was also named a finalist for 2016 SIIA CODiE Awards' Best Subscription Management Solution, and for the 2016 V3 Digital Technology Leaders Awards in the categories of Best Place to Work in Digital: Small and Medium-sized Enterprises and Product Manager of the Year. cleverbridge has also been identified as a "High Performer" in the G2 Crowd Grid for Ecommerce Platforms, based on customer satisfaction and market presence.
To view the 2017 European IT and Software Excellence Awards finalists, visit http://www.iteawards.com/content/2017-finalists. To learn more about cleverbridge, please contact inquiry(at)cleverbridge(dot)com or visit http://www.cleverbridge.com.
About cleverbridge
cleverbridge provides global subscription billing solutions that help companies build long-term customer relationships and grow recurring revenue streams. With its flexible, cloud-based billing and monetization platform, cleverbridge integrates seamlessly with client systems, simplifies subscription business models and delivers an optimized online customer experience. Leveraging cleverbridge expertise, technology and services, clients monetize products and services more effectively, rapidly expand their global subscriber base and maximize customer lifetime value. Headquartered in Cologne, Germany, cleverbridge has offices in Chicago, San Francisco and Tokyo. For more information, visit http://www.cleverbridge.com.
About IT Europa
IT Europa is the leading provider of strategic business intelligence, news and analysis on the European IT marketplace and the primary channels that serve it. In addition to its news services, the company markets a range of database reports and organises European conferences and events for the IT and Telecoms sectors. For further details visit: http://www.iteuropa.com.