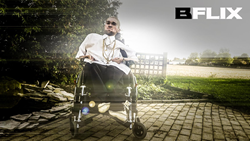 (PRWEB) March 02, 2017
Boston, Ontario rapper B-Flix has released the video for "Never Be The Same" featuring Rose Lamothe online at https://www.youtube.com/watch?v=4_FJgQnifZg. The track appears on B-Flix's new album "Geniune II," which is available on all digital platforms including iTunes, Spotify, and Google Play.
B-Flix's unique style of rapping can be attributed to the fact that he has Spinal Muscular Atrophy (S.M.A.), a disease that robs people of physical strength by affecting the motor nerve cells in the spinal cord, taking away the ability to walk, eat, or breathe. Although the disease has confined him to a wheelchair, B-Flix is unwilling to fail at achieving his dreams of making music.
Since 2014, B-Flix has released 3 full-length albums and garnered 2 Hamilton Music Award nominations. B-Flix has been on the grind collaborating with hip-hop veterans: Moka Only, iLL Vibe, The Emsee, D.O., and DGT. B-Flix teamed up with Madchild from the legendary Canadian hip-hop crew Swollen Members to record the single "Gotta Be Me." The song instantly reacted with fans garnering press attention and earning him an Akademia Music Award, as well as an American Songwriting Award for the effort.
For more information on B-Flix please visit http://www.bflix.ca or http://www.facebook.com/bflixmusic or http://www.twitter.com/B_flicky