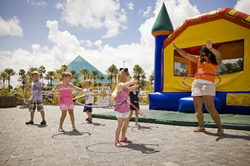 Galveston, TX (PRWEB) March 02, 2017
Moody Gardens Hotel is offering a special family-friendly, circus-themed package to travelers during Spring Break. Sunday through Thursday rates will start at $199+tax per night, and include complimentary circus-themed Kids Crew activities.
The complimentary Kids Crew activities include face-painting, balloon art, pool coin dives, movie night, getting up close with animals, ring tosses, and various carnival games. Kids can snack on snow cones, popcorn, peanuts, cotton candy, and Cracker Jacks. Guests will also be entered for a chance to win a one night stay at Moody Gardens Hotel and four one-day passes to the Moody Gardens attractions.
Nearby, guests can also visit Moody Gardens, the site of the Rainforest Pyramid, Discovery Pyramid, MG 3D & 4D Special FX Theaters and much more! Moody Gardens Hotel also offers a location close to Galveston's Pleasure Pier and Strand Historic District.
"Spring Break is an excellent time for families to take time off and have fun together," said Sara Brown, Public Relations Manager. "With our Spring Break Circus Sweepstakes, we're letting families enjoy carnival-themed, kid-friendly activities at a low rate. Thanks to our location next to the Moody Gardens Attractions and Schlitterbahn Waterpark, guests find it easy to stay entertained. We're always happy to welcome families to Moody Gardens Hotel."
To enter to win a one-night stay including four one-day passes to the Moody Gardens attractions, including Rainforest Pyramid, 3D Theater, 4D Theater, Special FX Theater, Discovery Museum, Colonel Paddlewheel Boat, and Palm Beach, through March 19th. The winning offer is valid only on Sunday through Thursday stays through November 15, 2017.
About Moody Gardens Hotel
Opened in 1998, Moody Gardens Hotel boasts 428 luxurious accommodations in a botanic setting on 242 acres of natural Gulf scenery. Located on the northern shore of Galveston Island, along Offats Bayou, the hotel is adjacent to Moody Gardens and Schlitterbahn Waterpark. On-site dining includes Café in the Park and Shearn's Seafood and Prime Steaks, along with Moody Brews coffeeshop. The hotel features an onsite full-service spa and fitness center, as well as ample meeting and conference space for events. Having completed $25,000,000 worth of renovations in 2015, Moody Gardens Hotel offers a unique family-friendly experience in Galveston.