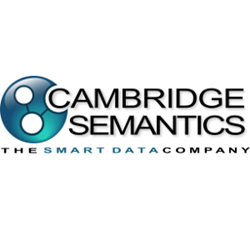 We have reached a tipping point - companies are rapidly embracing our semantic-based, graph query solutions for extracting maximum value from large, diverse data sets.
Boston, Massachusetts (PRWEB) March 01, 2017
Cambridge Semantics, the leading provider of graph-based Smart Data management and exploratory analytics solutions, today announced that it has been named to the 18th annual list of KMWorld Magazine's "100 Companies that Matter in Knowledge Management."
KMWorld's list includes a variety of technologies and solutions that meet the knowledge needs of a mobile workforce. Whether they focus on collaborative, cloud or cognitive computing, the companies represented in this category are the best in innovation, functionality and creativity.
Cambridge Semantics leverages its award-winning Smart Data Lake to revolutionize smart data discovery, analytics and data management across the enterprise and on the web at big data scale. The company's solutions enable IT departments and end users to link and contextualize, govern, discover and analyze big data from diverse sources, both from within and across organizational boundaries. Cambridge Semantics' Anzo Smart Data Lake, features an in-memory graph database, Anzo Graph Query Engine, which recently shattered a record by loading and querying a 'trillion triples' 100 times faster than the previous mark.
"The banner of knowledge management spans a wealth of territory to encompass solutions that range in functionality from the tried-and-true to the futuristic. Those designated to this year's list of KMWorld 100 Companies That Matter in Knowledge Management run the gamut of capabilities, but share such similar characteristics as innovation, ingenuity, usefulness and resourcefulness," says KMWorld Editor Sandra Haimila. "Moreover, the companies on this list create solutions that help their customers turn vast amounts of data into usable knowledge that they can leverage to enhance collaboration, gain insights and achieve their goals."
This is the third consecutive year and fourth time that Cambridge Semantics has been named to KMWorld's "100 Companies that Matter in Knowledge Management."
"We're honored that KMWorld has recognized us once again as one of the leaders in the big data space," said Alok Prasad, president of Cambridge Semantics. "What's different for us this year is that we have reached a tipping point in our business - companies are rapidly embracing our semantic-based, graph query solutions for extracting maximum value from large, diverse data sets while maintaining their security, provenance and governance."
About KMWorld
KMWorld (http://www.kmworld.com) is the leading information provider serving the Knowledge Management systems market and covers the latest in Content, Document and Knowledge Management, informing more than 21,000 subscribers about the components and processes - and subsequent success stories - that together offer solutions for improving business performance. KMWorld is a publishing unit of Information Today, Inc. (http://www.infotoday.com).
About Cambridge Semantics
Cambridge Semantics (CSI), the Smart Data Company, is an enterprise smart data management and exploratory analytics company. It enables customers and partners to rapidly build and deploy Smart Data Lake solutions based on its award-winning Anzo Smart Data Platform™ (Anzo SDP).
IT departments and business users gain better understanding and data value through the semantic linking, analysis and management of diverse data whether internal or external, structured or unstructured. The Anzo Smart Data Lake solutions are delivered with increased speed, at big data scale and at a fraction of the implementation costs of using traditional approaches.
The company is based in Boston, Massachusetts.
For more information visit http://www.cambridgesemantics.com, or follow us on Facebook, LinkedIn and Twitter: @CamSemantics.
# # #