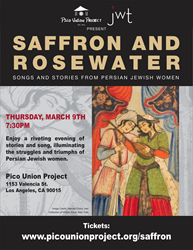 Los Angeles, CA (PRWEB) February 28, 2017
Media Contact:
Cassandra 818.760.1077
info(at)craignco(dot)com
The Pico Union Project is pleased to announce the production of Saffron and Rosewater with the Jewish Women's Theater on Thursday March 9th.
Saffron and Rosewater highlights, through story and song, the struggles and triumphs of Persian Jewish Women. Join us for a musical journey that will range from the comedic to the dramatic at the safe space of the Pico Union Project.
Saffron and Rosewater provides a pivotal message in today's current political climate, and the voices we will hear are needed more than ever.
Thursday, March 9th @7:30pm
Tickets are available at http://buytickets.at/picounionproject/83535