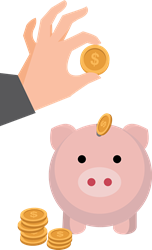 Toll-Free services are provided on our fully-redundant SIP Network and can be managed through our award-winning BackOffice." - Dan Ravenstahl, President
Pittsburgh, PA (PRWEB) March 01, 2017
VoIP Innovations, a premier wholesale VoIP carrier, announced that effective today, March 1, 2017, they will be reducing their Toll-Free Monthly DID Fee to 25¢ for wholesale customers. Enterprise customers would need to contact their Account Manager and upgrade their accounts to get this new pricing. Both new and existing DIDs are included and this is not a time-limited promotion. The DIDs will not incur any activation or porting fees, but some exclusions do apply.
Dan Ravenstahl, President of VoIP Innovations, says, "Toll-Free services are provided on our fully-redundant SIP Network and can be managed through our award-winning BackOffice." Mr. Ravenstahl continued, "Our Toll-Free services use numerous Tier 1 providers which offer an additional layer of redundancy."
Customers who currently use VoIP Innovations will see their Toll-Free DIDs be decreased to 25¢ per month. Those who are not using the VoIP Innovations' network can work with a dedicated Porting Representative to easily port their numbers. Toll-Free numbers are compatible with Forwarding, Failover, Fax-to-Email, and Conferencing features.
If you are not a customer with VoIP Innovations, sign up online today!
About VoIP Innovations:
VoIP Innovations is an Inc. 5000 company that specializes in providing the largest DID and termination VoIP footprints in North America. Their network includes over 500,000 DIDs in stock in over 8,500 rate centers in the US and Canada. Recently, VoIP Innovations expanded their footprint to include DIDs in over 60 countries and now offers A-Z termination. VoIP Innovations is owned by ABG Capital and is based in Pittsburgh, PA. To learn more, please visit the VoIP Innovations Blog.
For more information, please contact:
Cherie Steffen
VoIP Innovations
Marketing Communications Coordinator
(412) 406-5328
cheries(at)voipinnovations.com