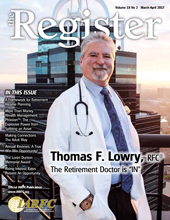 "I love this business so much that I do not see myself taking down the shingle" -Thomas Lowry, RFC
Middletown, OH (PRWEB) March 02, 2017
The International Association of Registered Financial Consultants (IARFC) focuses on treating retirement in the March/April issue of their industry publication, the Register. Their featured consultant, Thomas F. Lowry, RFC®, CRPC, president of Georgia Wealth Advisors, LLC in Atlanta Georgia is known as the "Retirement Doctor" specializing in the unique type of financial planning that finds the best treatment and prescription to help his clients move from their working years into their retirement year.
Thus dubbed the "Retirement Doctor" by one of his medical clients, Lowry has leveraged this compliment into a specific brand of financial therapy to get his message across to his client base. According to Lowry, "Many people think of retirement as a destination – as though they are planning a trip to a specific location. But really, like life, retirement is a journey and it may be a long one."
Lowry's own journey to his chosen career has been diverse – from a big family home life, to Army Ranger, to commercial deep sea diver then ultimately settling into insurance sales. With all these experiences, Lowry touts the one thing that helped him become the professional he is today – having his father as a role model. "He was incredible," related Lowry. "He would work hours on end at the emergency room with a sincere concern in taking care of his patients and then come home to eight kids and a crazy house always with a smile on his face."
When facing his own "patients," or clients, Lowry defines three phases of passage – the Go-Go phase where people want to check off those things on their bucket list and where most people will use their savings to enjoy the early years of retirement; the Slow Go phase where people start slowing down and stay closer to home spending time with family and hobbies; and the No Go years where healthcare becomes the most pertinent issue. He emphasizes the importance of discussing these life stages with clients and finding out how his clients want to treat each phase.
Lowry's RX for a Happy Retirement…
1. Take the unknown out of retirement planning
2. Provide a firm understanding of a solid retirement strategy
3. Learn how to bridge the income gap caused by retirement
"Our members are passionate and dedicated professionals who find their own brand of motivating and inspiring clients," comments IARFC Chairman H. Stephen Bailey. "Much like medical professionals, we look to treat the financial worries that plague our clientele to assure them a healthy financial picture as they age."
Thomas Lowry, RFC® has been awarded the Ethics Approved status from the IARFC. To read his entire article about his career dedicated to prescribing a lasting and safe retirement, go to http://www.iarfc.org and download the March/April issue of the Register.