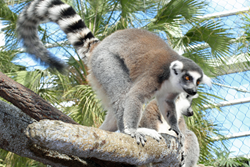 "We've created a really dynamic environment that affords the lemurs a lot of choices," said Dave Collins, the Aquarium's director of forests and animal behavior. "They're frequently in close proximity to our guests as they jump and climb around."
Chattanooga, TN (PRWEB) March 01, 2017
After years of planning and months of construction, the Tennessee Aquarium celebrates the opening today of Lemur Forest, the latest major addition to its collection of exhibits.
Nine adorable, charismatic lemurs — seven Ring-tailed and two Red-ruffed — have moved into the new exhibit, which anchors a complete overhaul to the top floor of the Aquarium's Ocean Journey building.
Guests entering the gallery will feel transported to the wilds of Madagascar, the lemurs' native habitat, thanks to a design reflecting that African nation's rainforests and arid, "spiny" forests. Visitors won't have to struggle to spot the exhibit's namesake, courtesy of an innovative exhibit design that offers consistent sight lines along the numerous routes the animals can traverse, including an aerial path arcing directly over the exhibit's entrance.
In all, Lemur Forest encompasses more than 125 feet of horizontal distance and dozens of feet of elevation changes. The exhibit also features more than 200 linear feet of artificial "vines," which can be moved and re-attached to a network of anchor points, creating new and interesting pathways to slake the lemurs' thirst for exploration and mental stimulation. By tapping into the tremendous (and previously under-utilized) vertical space under the Aquarium's iconic glass peaks, Lemur Forest offers perches more than 30 feet overhead.
"We've created a really dynamic environment that affords the lemurs a lot of choices," said Dave Collins, the Aquarium's director of forests and animal behavior. "They're frequently in close proximity to our guests as they jump and climb around."
For the last several months, the lemurs have been adjusting well to life at the Tennessee Aquarium. Since being allowed on exhibit last week, they have been energetically exploring the Forest and are showcasing natural behaviors that indicate to the Aquarium's husbandry staff that they are comfortable with each other and their new home. "When they are chasing each other and tussling, that's a sure sign they are very comfortable with their surroundings," said Chelsea Feast, one of the Aquarium's lemur experts. "They've also been resting together in what's known as a 'lemur ball' in public view. This is when they huddle up together and nap."
Visitors to Lemur Forest will be able to see the lemurs demonstrating other traits for which they are so well known. Overhead, the tree-loving Red-ruffs often clamber to the highest perches or hang upside down from branches by their back feet while snacking on fruit. Closer to terra firma, guests will see the Ring-tails warming themselves in a yoga-like pose called "sun worshipping" or demonstrating their phenomenal agility with blink-quick bounds from branch to branch.
The changes to the top floor of the building also include a comprehensive update to Stingray Bay, the Aquarium's largest touch tank. With new, slimmer walls and a step up installed around its taller sections, the tank has been made more accessible for younger guests, who will find it easier than ever to lay fingers on the shark and ray species swimming through its warm waters.
Aquarium guests are encouraged to download the Tennessee Aquarium app to have the daily schedule of Extraordinary Experiences handy. These entertaining and educational programs, such as the new Leapin' Lemurs programs at 11 a.m. and 3 p.m., are offered free with Aquarium admission.