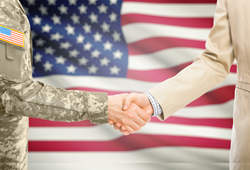 The secret sauce to this particular initiative is that veterans will be taking accurate and comprehensive assessments to accelerate their success.
Sugar Land, Texas (PRWEB) March 06, 2017
CDR Assessment Group, Inc. and Lone Star Veterans Association are hosting an Authentic Career Development Workshop for veterans on Thursday, March 9th in Houston. This is part of the "Vets Coaching Vets" initiative roll out. This program includes a 4-hour workshop, in-depth assessment with the CDR 3-D Suite and 4 hours of one-to-one coaching.
The Authentic Career Development Workshop will be held on March 9th, from 10:00 am to 2:00 pm, at the Lone Star Veterans Association office at 2929 McKinney Street in Houston. The workshop will focus on:

the imperative of in-depth self awareness,
why strengths & motivational needs matter most,
how to determine one's best-fit career path,
doing what is most rewarding,
managing risk factors, and
career planning.
After the Workshop, each veteran's results of the CDR Character, Drivers & Rewards, and Risk Assessments will be debriefed in a one-to-one coaching session scheduled with volunteer CDR Certified Executive Coaches from across the nation. Veterans will begin working on their career development plans with their coach. The commitment is for 2.5 hours, and up to 4 hours, of coaching per veteran.
According to Nancy Parsons, president of CDR, "Veterans have already sacrificed so much for the nation so it is our mission to help them move quickly onto career and educational tracks that are best matched to their inherent capabilities. The secret sauce to this particular initiative is that veterans will be taking in-depth, accurate and comprehensive assessments to accelerate their success."
"Ultimately," according to Parsons, "the goal of 'Vets Coaching Vets' is to certify veterans to use CDR's in-depth assessment tools when providing career coaching services for other veterans. Equipped with these tools, veterans can move to their best career paths from the first coaching session."
Kevin Doffing, Executive Director for Lone Star Veterans Association explained, "We believe investing in veterans is investing in your community. When we focus resources on accelerating the careers of veterans, we continue the tradition of leadership development we all received in the military. It is these veterans that go on to challenge and lead our communities from within, often without outwardly displaying their military heritage."
Donations are encouraged to support the "Vets Coaching Vets" initiative, coaching and training. Please join this effort and make a tax-deductible donation today to Lone Star Veterans Association.
Founded in 1998, CDR Assessment Group, Inc. provides unmatched assessments and leadership and talent development services for global clients. CDR Executive Coaches, trainers, consultants, and scientific research experts are among the best in the world. CDR is a nationally certified women-owned business (WBENC).
Houston-based, Lone Star Veterans Association is the largest post-9/11 veteran membership group in the state of Texas. While we focus on programming and marketing towards the post-9/11 community we are an inclusive organization with supporters that include veterans from every era of military service, military spouses, and civilians.
For more information Veterans should contact: communications(at)lonestarveterans(dot)org
For inquires about CDR's tools and services, contact: cdrinfo(at)cdrassessmentgroup(dot)com or call 918-600-5728.