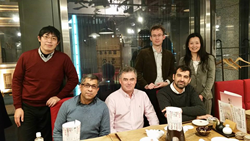 The parties both believe in the values of open source, transparency, interoperability, reproducible science, open standards, and social responsibility.
Basel, Switzerland (PRWEB) March 06, 2017
Douglas Connect (http://www.douglasconnect.com) and its partners have been leading a major initiative to simplify and modernize access to toxicology data and modelling resources. For all of these sources, the aim is to make them accessible through the OpenTox integrating framework based on open standards and language-independent Application Programming Interfaces (APIs).
Garuda (http://www.garuda-alliance.org) is a community-built platform providing an open framework to connect, discover and navigate through different applications, databases and services in biology and medicine. Powered by APIs, it can connect various software packages and combine them into bespoke 'gadgets' customized for specific data analysis with applications in biology and beyond. Garuda aims to "re-imagine connectivity" through a series of open gadgets built by alliance members as well as custom-tailored, specific gadgets provided by SBX Corp. and her partners both in academia and industry.
Douglas Connect is now working together with SBX to add OpenTox gadgets to Garuda. This will allow data from OpenTox to be accessed and analysed through a diverse set of Garuda gadgets to provide access to multiple sources of toxicology data socialised to systems biology and bioinformatics applications.
"The parties both believe in the values of open source, transparency, interoperability, reproducible science, open standards, and social responsibility. Products developed and released as part of the partnership will reflect these values." said Barry Hardy, Managing Director of Douglas Connect. "Our combined teams will be able to provide enhanced global support and solution improvement to customers."
"The strategic partnership as envisaged by this MoU will lay the foundation of building the leading state-of-the-art computational and experimental platform for 21st century toxicology", said Dr. Hiroaki Kitano, President & CEO, SBX Corp.
"We are delighted to partner with Douglas Connect to build novel computational pipelines which cater to the needs of the toxicology community through the connectivity of OpenTox and Garuda platforms", said Dr. Samik Ghosh, CTO of SBX Corp.
Douglas Connect GmbH (DC) is headquartered in Basel, Switzerland. DC teams lead the development of knowledge management resources in predictive toxicology and safety assessment within OpenTox, OpenRiskNet and EUToxRisk and the industrialization of alternative testing methods within DC solutions and consulting teams.
SBX Corporation (SBX) is a private corporation which was established in 2012 as a business arm of the Systems Biology Institute to facilitate the commercialization of research technologies, software solutions and analytics consultancy services which address core problems in drug discovery, clinical decision making and personalized healthcare. SBX provides customized software solutions to major pharmaceutical companies, multi-national conglomerates as well as consultancy services to biotechnology ventures.