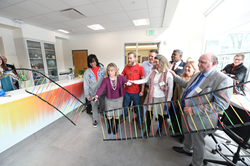 It's going to bring all of us together so that we can push one another to achieve our dreams, to achieve happiness and to keep on pursuing the help that our families need.
Salt Lake City, Utah (PRWEB) March 02, 2017
Salt Lake Community College opened the doors Wednesday to its new Dumke Center for STEM Learning on its flagship Taylorsville Redwood Campus. SLCC made room for the 6,000 square-foot, two-story Center by renovating part of its Science and Industry Building.
SLCC President Deneece G. Huftalin explained to onlookers about the colorful, long homemade DNA sequence she was about to cut to officially mark the Center's opening. "When you're starting a STEM learning center, you can't just have a ribbon," Huftalin said. She noted how the new space embraces learning and engagement and showcases a "community" approach to STEM education. "I'm so anxious to come in here on a Monday morning and listen to the energy that's being created in the room by the students who are trying to figure out different problems in science, math and engineering," she added.
It's anticipated that the Center will receive about 10,000 visits per spring and fall semesters for students seeking free tutoring and advising or areas for studying, workshops and collaboration. Thirty-three percent ($397,139) of the construction project was funded with federal money from the Department of Education and 67% ($802,861) by non-governmental sources.
"Now with an open space like this, any student came come in and share these resources with anyone," said SLCC student Miguel Ruiz Carpio, a STEM scholarship recipient majoring in electrical engineering. "It's going to bring all of us together so that we can push one another to achieve our dreams, to achieve happiness and to keep on pursuing the help that our families need."
Carpio and other SLCC students indirectly benefited from the Center by winning STEM scholarships that were funded by a National Science Foundation grant, noted Craig Caldwell, dean of the SLCC School of Science, Math and Engineering. "That grant would not have come without the investment in this center," Caldwell said. "They pay attention when a community buys into a vision."
The vision for the Center culminated in three offices for its director and two advisors, two workshop rooms, two study rooms, a large open space for tutoring, kitchen and reception areas, computers on both levels and spaces for students to take breaks. "One of SLCC's institutional priorities is to develop new approaches to supporting, assessing and improving achievement in mathematics and science," said Jose Crespo, director of the Center. "Along with the other STEM learning centers located on different campuses, this new center will result in more effective tutoring and learning support for all math and science students."
SLCC plans to expand the Center with a third level for hosting seminars and STEM professionals and expanded services for students. A major donation to fund construction of the Center came from the Katherine W. Dumke and Ezekiel R. Dumke, Jr. Foundation. Dumke board member Scott Thornton was on hand for the opening. "I can't believe how well utilized every nook and cranny is," Thornton said. "I think it's going to be really exciting to see how the students use this space going forward." Additional funding from private sources included the George S. and Dolores Dore Eccles Foundation, the Sorenson Legacy Foundation and Jeff Nelson.
Salt Lake Community College is an accredited, student-focused, comprehensive community college meeting the diverse needs of the Salt Lake community. Home to more than 61,000 students each year, the College is Utah's leading provider of workforce development programs. SLCC is also the largest supplier of transfer students to Utah's four-year institutions and a perennial Top 10 college nationally for total associate degrees awarded. The College is the sole provider of applied technology courses in the Salt Lake area, with multiple locations, an eCampus, and nearly 1,000 continuing education sites located throughout the Salt Lake Valley. Personal attention from an excellent faculty is paramount at the College, which maintains an average class size of 20.