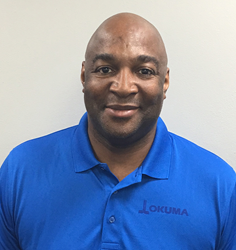 Charlotte, NC (PRWEB) March 07, 2017
Okuma America Corporation , a world leader in CNC machine tool manufacturing, is pleased to announce that industry expert, Errol Burrell, joins the team as machining center product specialist. He has extensive 5-axis knowledge and is responsible for supporting sales and Okuma distribution partners.
Burrell previously worked as product sales manager for a machine tool company and held positions as an application engineer and training director. "Okuma is thrilled to have Errol join us as our machining center product specialist. He's an expert in the industry with more than 30 years of hands-on experience in working with 5-axis machines. His in-depth CNC technical knowledge is a tremendous asset to our customers and distributors," says Tim Thiessen, vice president of sales and marketing.
Burrell has a Higher National Diploma (HND) in mechanical engineering, a Higher National Certificate (HNC) in computer science and holds various engineering certificates from Preston College and the University of Central Lancashire, England.
About Okuma America Corporation
Okuma America Corporation is the U.S.-based sales and service affiliate of Okuma Corporation, a world leader in CNC (computer numeric control) machine tools, founded in 1898 in Nagoya, Japan. The company is the industry's only single-source provider, with the CNC machine, drive, motors, encoders, and spindle all manufactured by Okuma. The company also designs their own CNC controls to integrate seamlessly with each machine tool's functionality. In 2014 Okuma launched the Okuma App Store, the industry's only centralized online marketplace for machine tool apps and related content. Along with its extensive distribution network (largest in the Americas), and Partners in THINC, Okuma is committed to helping users gain competitive advantage through the open possibilities of machine tools, today and into the future. For more information, visit http://www.okuma.com/americas or follow us on Facebook or Twitter @OkumaAmerica.
###