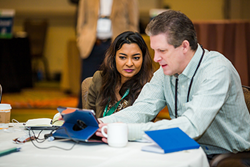 We're looking forward to diving into the critical issues affecting healthcare delivery today.
Washington D.C. (PRWEB) March 07, 2017
HIMSS is pleased to announce keynote speakers for the Pop Health Forum, a conference dedicated to improving care and slowing the rise in healthcare spending.
The forum, which will be held on April 3 – 4, 2017 at The Westin Copley Place in Boston, will bring together the nation's largest group of population health experts at a time when Republicans are seeking to replace the Affordable HealthCare Act (ACA).
Noted Harvard health economist Katherine Baicker, PhD, C. Boyden Gray Professor of Health Economics at the Harvard T.H. Chan School of Public Health, who studies the impact of politics on health care policy, will deliver a keynote address called "Can We Have Slower Spending Growth and Better Healthcare?"
Baicker helps lead the Oregon Health Insurance Experiment, a groundbreaking study that examines the effects of expanding Medicaid coverage. In her keynote, she will examine where the ACA succeeded and failed, what we can learn from the Oregon Experiment and what she considers key to delivering high-value healthcare for the money we spend.
In addition, Leora Horwitz, a Director at the Center for Healthcare Innovation and Delivery Science at NYU Langone Medical Center, will deliver a keynote called "How to Make Hospital Innovations Routine." She'll discuss how to use academic research to improve care, outcomes, and patient safety while addressing real-world healthcare delivery challenges like reducing readmissions, clinician communication, and patient follow-ups.
The Pop Health Forum will also feature a number of breakout sessions that focus on best practices for patient engagement, care coordination and data analytics — key factors in managing healthcare outcomes.
Sessions of note include:
Technology and Strategy: Creating the Framework for Value-Based Care
Kaiser Scales Success: From Population to Personalize Health Management
Driving Outcomes Through a Clinician Workflow-Technology Interface
Chronic Disease Management: Key Leadership Skills and Competencies for Effective Pop Health
Patient Engagement: Do You Need a Bigger Boat? Attack Plan for Telehealth Barriers
"Boston is a hub for the healthcare industry," explains John Whelan, Executive Vice President, HIMSS Media. "We're delighted to be returning there to host the Pop Health Forum — and we're looking forward to diving into the critical issues affecting healthcare delivery today."
Visit our event website for more information or register here.
About HIMSS
HIMSS is a global voice, advisor, convener, and thought leader of health transformation through the best use of IT with a unique breadth and depth of expertise and capabilities to improve the quality, safety, and cost-effectiveness of health and healthcare. Through its network of over 1 million professionals, including 64,000-plus members, HIMSS advises leaders, stakeholders and influencers globally on IT best practices to ensure decision-makers have the right information at the right time to make the right decisions. HIMSS North America, HIMSS Analytics, Personal Connected Health Alliance, HIMSS Media and HIMSS International (HIMSS Europe, HIMSS Asia and HIMSS Middle East) are the five business units of HIMSS. A not-for-profit headquartered in Chicago, Illinois, HIMSS has additional offices in North America, Europe, United Kingdom, and Asia.
About HIMSS Media
HIMSS Media is the fastest growing B2B media group focused exclusively on health and technology markets. Through its suite of market-leading brands, such as Healthcare IT News, Healthcare Finance and MobiHealthNews, HIMSS Media delivers news, analysis, and must-have information to an audience of senior healthcare and technology influencers. HIMSS Media is also the leading producer of important live events, including Big Data and Healthcare Analytics Forum; Cloud Computing Forum; Digital and Personal Connected Health; Precision Medicine Summit; Privacy & Security Forum; Pop Health Forum; Revenue Cycle Solutions Summit; BrandHIT Summit.