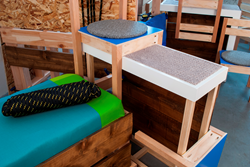 I encourage the exploration of my created habitat, or terrain, and invite visitors to remember a special place that they once, or even now, escaped to.
Boston, MA (PRWEB) March 21, 2017
Boston Children's Museum announces the opening of Hideout by artist, Amy Archambault. The exhibit features sculptural work inspired by drawings of forts done by children.
Hideout looks at fort making, and creating, in a new way that is directly inspired by children. Children like to create forts and play pretend in invented habitats, tree houses, clubhouses, and oddly impractical but satisfyingly constructed vehicles that can be pushed across the floor. Archambault began by asking children to recall the place(s) they have created or to imagine the ones that they would like to create. What do these fort-like structures look like? What materials are they made out of? What shapes are present in their construction? How small or large are these constructions? What everyday comforts and objects does one bring to their safe space?
A diverse collection of participants' drawings served as Archambault's muse in the same way that personal memories inspire her "tinkering" studio practice and past fabrications. Following the collection of so many inventive drawings, she began to analyze what components or features were ubiquitous to fort building. Regardless of the diversity that presented itself in participants' drawings, it became evident that for many fort building conformed to a simple equation of materials and methods. Ultimately, young explorers and creators used similar tools, materials, and assembly ideas. Chairs, tables, blankets, sofa cushions, furniture, wooden supports, lights and pillows surfaced as the essential basic building blocks.
"I am interested in the visual information connected to play that we share. In bringing these memories to current applications, I am also drawn to their connection with the visual languages rooted in the construction domain, architecture, habitat building, and created comforts," said Archambault. "I encourage the exploration of my created habitat, or terrain, and invite visitors to remember a special place that they once, or even now, escaped to."
Amy Archambault received her MFA from the University of Pennsylvania, Philadelphia, PA and BA in Studio Art / Psychology from the College of the Holy Cross, Worcester, MA. Archambault's large-scale installations, sculptures and mixed media drawings uncover playful and unconventional activations of sites and structures. Her installations incorporate both the material and the visual languages of athletic culture, childhood play and the home improvement / constructive domain. She is the recipient of the Massachusetts Cultural Council Artist Fellowship Grant (Sculpture / Installation) (2013). As a member of the Boston Sculptors Gallery, Boston, MA, she released a new body of work in her 2016 solo exhibition, "Imaginate." Archambault was named the Boston Center for the Arts Artist in Residence (2015). She is currently Studio Supervisor and Lecturer at the College of the Holy Cross, Worcester, MA.
The installation is scheduled to run through June 18, 2017.
For additional information visit BostonChildrensMuseum.org
About Boston Children's Museum
Boston Children's Museum engages children and families in joyful discovery experiences that instill an appreciation of our world, develop foundational skills, and spark a lifelong love of learning. More information about Boston Children's Museum can be found at http://www.BostonChildrensMuseum.org. Become a fan of the Museum on Facebook and follow us on Twitter
Hours and Admission
The Museum is open daily from 10:00 a.m. – 5:00 p.m. Fridays until 9:00 p.m. Adults, $16, children (1-15) and senior citizens, $16; children under 12 months and Museum members are always free. Fridays 5:00 p.m. – 9:00 p.m., all visitors $1.
###