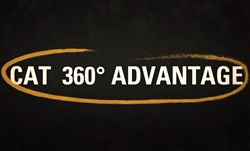 The Cat 360 Advantage opens up more possibilities for your business.
San Diego, CA (PRWEB) March 06, 2017
Hawthorne Cat, the exclusive Cat® equipment dealer in San Diego, the Hawaiian Islands and the Pacific Region, announces the Cat 360° Advantage, a set of products and services designed to help you generate bigger returns and grow your business.
Caterpillar listened to over 400 construction company owners and operators to identify support services and expert solutions that deliver the most value. Based on the responses, Hawthorne Cat created a set of offers that address specific business goals. The Cat 360° Advantage is designed to boost safety, productivity, and profitability.
Cat 360° Advantage offerings include EMSolutions services, preventative maintenance kits, extended protection plans, financing options, parts availability guarantee, and fuel consumption guarantee. Choose three options and create a custom bundle when you purchase a qualifying new Cat machine. Eligible models include dozers, compactors, excavators, motor graders, track loaders, and wheel loaders.
According to Sales Manager Ross Farmer, "Hawthorne Cat has you covered from every angle." Farmer continues, "Our industry-leading products and exceptional customer service make us the best choice for all your equipment needs."
Hawaii Sales Manager Shane Oliveira says, "The Cat 360 Advantage opens up more possibilities for your business." Oliveira continues, "Whether it's a powertrain and hydraulics protection plan, fuel reimbursement, or leasing support, we'll meet your jobsite challenges."
Visit the Hawthorne Cat website or call 800.437.4228 to learn more. Offer valid through June 30, 2017.
About Hawthorne Cat
Hawthorne Cat is the authorized dealer for Cat construction and power equipment in San Diego, Hawaii, Guam, Saipan and American Samoa. Hawthorne sells, rents, provides parts and service, training and emission solutions to various industries including general building construction, landscaping, marine, paving and power generation. For more on Hawthorne Cat, visit http://www.hawthornecat.com.