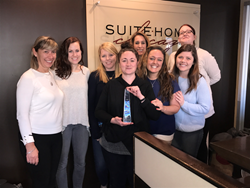 To be recognized amongst your peers is an incredible feeling.
Chicago, Illinois (PRWEB) March 07, 2017
We are "Flying the W" in Chicago again!
Suite Home Chicago was thrilled to be honored with the "Company Member of the Year" award by the Corporate Housing Providers Association (CHPA) at last week's annual conference in Huntington Beach, California. This award recognizes Suite Home Chicago's commitment to excellence within the corporate housing industry and their emphasis on building strong relationships within the hospitality sector.
Operations Manager Sarah DiDavide, CCHP beamed, "At Suite Home Chicago we truly strive to make the entire corporate housing experience the best that it can be for our guests, we always focus on what we can change or do to improve on the stay. To be honored by people that we work with and many that we look up to is such an accomplishment. This award means so much to us and we hope to continue to work up to the standards of the CHPA Company Member of the Year."
A leader in fully furnished apartments throughout the Midwest, this award affirms the Suite Home Chicago commitment to excellent customer service, innovating within their industry, and fostering positive partnerships with their clients, vendors and fellow corporate housing partners.
"Our team is thrilled," Suite Home Chicago Owner Jennifer Breen, CCHP said. "To be recognized amongst your peers is an incredible feeling, and I am so grateful that we can celebrate this company honor."
Breen continued, "We truly love doing what we do, and we have the best partners in the world. This is a testament to our passion for temporary housing and our industry as a whole."
The CHPA Company Member of the Year is awarded to an outstanding member company who has demonstrated commitment and excellence in the corporate housing industry.
The judging criteria includes:

Contributing locally, nationally, and internationally to the corporate housing industry
Creating unique solutions or programs to enhance the industry
Achieving sound financial results as they pertain to growth through sales and other initiatives
Exceeding guests' expectations measured by survey results or testimonials from guests or clients using the member's services
Developing strong relationships with other corporate housing providers
Developing collaborative relationships with supplier partners
This award recognizes their support and acknowledges their diligence and dedication to the industry
About Corporate Housing Providers Association (CHPA)
Corporate Housing Providers Association (CHPA) is the only trade association dedicated exclusively to the corporate housing industry. The association expects members to uphold the highest standards in business and professionalism; provides valuable insight, knowledge and resources to the industry; and increases visibility among related industries. Along with networking, education, certification, and information sharing, CHPA members grow their business and expand their reach through an international network of partners. Find out more about corporate housing or serviced apartments at http://www.chpaonline.org.
About Suite Home Chicago
Established in 2005, Suite Home Chicago offers luxury furnished, corporate apartments with flexible leasing terms throughout the Chicagoland and Milwaukee areas. The units are fully equipped with modern furnishings, luxury linens, and all the housewares needed for a temporary stay. The Suite Home staff strive to provide guests a "home away from home" experience, and are equipped to handle large corporate groups, project work, relocation, medical travel, entertainment crews, interns, and government travel.
Suite Home Chicago is a WBE-certified woman-owned business and a CCHP (Certified Corporate Housing Providers) Accredited member of the Corporate Housing Providers Association (CHPA), a professional trade association exclusively dedicated to supporting corporate housing providers. The firm also recently received its Association of Service Apartment Provider's (ASAP) Quality Assurance Accreditation in October, 2016. This program is the leading global quality assessment, reporting, recognition and accreditation system for serviced apartments, corporate housing and executive suites sectors of the hospitality industry.
Suite Home Chicago owner Jennifer Breen is a certified Corporate Housing Professional (CCHP) and Planning Co-Chair for the Chicago Corporate Relocation Council (CRC). She sits on the Boards of the Corporate Housing Providers Association (CHPA) and Chicago Relocation Council (CRC). To learn more about Suite Home Chicago, please contact the company headquarters at (312) 638-0891 or email sales(at)suitehomechicago9dot)com.