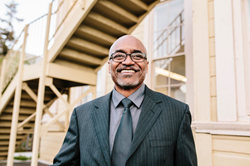 "Dr. Joe Marshall's Jesuit education gave him the intellectual tools, the entrepreneurial drive, and the social conscience to create a whole new approach to saving and serving at-risk youth in our community," said USF President Paul J. Fitzgerald, S.J.
SAN FRANCISCO, CA (PRWEB) March 06, 2017
The University of San Francisco (USF) is pleased to announce that Alive & Free and its co-founder and executive director Dr. Joseph E. Marshall Jr. will be honored with the 2017 USF California Prize for Service and the Common Good. Dr. Marshall is the 9th recipient and the first USF graduate to be awarded this prestigious prize. Alive & Free will be celebrated at a gala dinner on April 27 on the USF campus.
Alive & Free, based in San Francisco, offers a supportive community to young people, empowering them to avoid peer pressure and situations that can lead to violence, incarceration, drug addiction or dropping out of school. Through a combination of structure and encouragement, Alive & Free sets up participants to be good citizens, build strong families, and attend college. To date, 218 young people from the program have graduated from college with funding support from the club's scholarship fund. Of these, more than 60 have earned graduate degrees.
"Dr. Joe Marshall's Jesuit education gave him the intellectual tools, the entrepreneurial drive, and the social conscience to create a whole new approach to saving and serving at-risk youth in our community," said USF President Paul J. Fitzgerald, S.J. "As an undergraduate at USF, Joe was a leader on campus for inclusion, social justice, and human equity. He has continued to develop these God-given talents as a highly respected change agent and civic leader. We are tremendously proud of him and grateful for his successful efforts to open pathways to success for hundreds of young people."
"It is quite an honor for both me and Alive & Free to be this year's recipient of the California Prize," said Marshall. "This year is the 30th anniversary of Alive & Free, which makes the recognition extra special. And to be the first USF alumnus to win the award, that's very humbling."
At the April 27 event, USF brings together champions of the common good from across California including philanthropists, civic dignitaries, and university leaders to honor the awardee. Proceeds from this year's gala benefit the university's African American Scholars Project, which enhances the scholarly community for African American students by creating new scholarships, increasing cultural engagement, and focusing on academic success and student leadership development at USF.
The USF California Prize is awarded for significant service to the poor or marginalized, and for groundbreaking achievements in pursuit of the common good. It comes with a $10,000 purse and a handcrafted medal. The California Prize is USF's way of rewarding, honoring, and celebrating the work of those who share the university's commitment to create a more humane, just, and sustainable world.
Now celebrating its 9th year, previous California Prize recipients are Salesforce.org, Salesforce's philanthropic foundation; The Chronicle Season of Sharing; the San Francisco Free Clinic, co-founded by Drs. Patricia Hellman Gibbs and Richard Gibbs; the San Francisco Giants; Daniel Lurie, founder of the Tipping Point Community; One PacificCoast Bank and Foundation, founded by Kat Taylor and Tom Steyer; Alice Waters, chef and champion of the sustainable food movement; and, Lynn Fritz, social entrepreneur.
Journalists interested in covering the April 27 gala, or who would like to request an interview with Dr. Marshall, should contact Anne-Marie Devine Tasto, USF's senior director of media relations, at (415) 422-2697 or abdevine(at)usfca(dot)edu.
About Alive & Free
Co-founded in 1987 by Joseph Marshall Jr., a middle school teacher, and Jack Jacqua, a middle school counselor, Alive & Free is a violence prevention program established at the Omega Boys Club, a nationally recognized youth development and violence prevention organization headquartered in San Francisco, CA.
Alive & Free's mission is to keep young people alive and free, unharmed by violence and free from incarceration. By providing young people with opportunity and support, the organization helps them build positive lives and become greater contributors to society. Learn more by visiting http://www.stayaliveandfree.org.
About the University of San Francisco
The University of San Francisco is located in the heart of one of the world's most innovative and diverse cities and is home to a vibrant academic community of students and faculty who achieve excellence in their fields. Its diverse student body enjoys direct access to faculty, small classes, and outstanding opportunities in the city itself. USF is San Francisco's first university, and its Jesuit Catholic mission helps ignite a student's passion for social justice and a desire to "Change the World from Here." For more information, please visit usfca.edu.