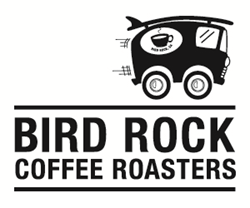 In the midst of so much excitement with expanding to the west coast, we have even more to celebrate.
San Diego, Calif. (PRWEB) March 07, 2017
Bird Rock Coffee Roasters announced today plans for expansion in several parts of the business under new ownership, led locally by Jeff Taylor of PT's Coffee Roasting Company. PT's Coffee Roasting Co. owners purchased Bird Rock Coffee Roasters on January 31, 2017. Both company brands will remain distinct, and the former owner of Bird Rock Coffee Roasters, Chuck Patton, is staying on as Head Coffee Buyer for both companies. The acquisition brings opportunities for growth, including new locations, new coffee offerings, and new products. Plans are currently underway to open a new Bird Rock Coffee Roasters location this year, to increase cold brew selections, and to expand current offerings to include coffees from Brazil and Ecuador.
Bird Rock Coffee Roasters garnered two national achievements during the acquisition period:

Winner of the Good Food Awards for 2017. This is the second year in a row that Bird Rock Coffee Roasters won in the coffee category. The entrees were reviewed in a blind tasting with more than 200 entries and then vetted through a rigorous process to verify that they met the sustainability and social responsibility criteria to win the award. Bird Rock Coffee Roasters is the only recipient in any category in the Good Food Awards in 2017 in San Diego, and one of only three coffee awardees in the State of California.
Jacob White, a multiple award-winning barista and the Education and Quality Control Manager at Bird Rock Coffee Roasters, placed in the nationals for the Brewers Cup challenge following his performance in the qualifying event in Austin, Texas. Jacob will be one of only two baristas in the State of California to compete in the finals this April in Seattle. The winner of this final round will be able to compete in the world's Brewers Cup Challenge in Hungary this summer. Jacob is currently in Panama hand selecting the coffee he will be competing with in April.
"In the midst of so much excitement with expanding to the west coast, we have even more to celebrate," said co-owner of PT's and Bird Rock Coffee Roasters, Jeff Taylor. "As a result of the merging of business assets, we will be able to source more award-winning coffees from more countries, increase socially responsible direct trade coffee consumption throughout San Diego, and expand opportunities for our incredibly talented employees."
For more information about Bird Rock Coffee Roasters, please visit: birdrockcoffee.com
About Bird Rock Coffee Roasters
Bird Rock Coffee Roasters (BRCR) is proud to have put premiere, direct trade coffee on the map in San Diego. BRCR has won multiple national and international awards for quality, taste, roasting and socially responsible practices, including: Micro Roaster of the Year in 2012, the Good Food Award in 2016 and 2017, the #1 spot on Coffee Review's "30 Best Coffees of 2016" and a consistent winner of scores over 90 points for several of their coffee selections. Bird Rock Coffee Roaster's staff is sought after throughout the world to judge coffees, consult on experimental lots, and price lots based on their coffee expertise. Going beyond the perfect latte, Bird Rock Coffee Roasters has top quality professional roasters on site, pour-over bars featuring seasonal offerings; and weekly cuppings open to the public for a sneak peak into the newest offerings, the selection process, and all things coffee. Bird Rock Coffee Roasters engages in direct trade with farmers, and is proud to serve the best green coffee, prepared with the utmost respect for those who produced it. Bird Rock Coffee Roasters has three locations in San Diego. For more information, please visit http://www.birdrockcoffee.com