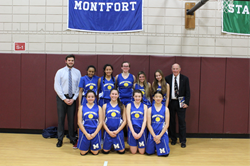 I am always impressed how our girls keep their cool and play with virtue under the immense pressure of competition, especially in a championship. I am really, really proud. Richard Greco, Jr. President, The Montfort Academy
Mt. Vernon, NY (PRWEB) March 07, 2017
The Montfort Academy's President Richard Greco, Jr. today announced that Montfort's Girls Basketball team defeated EF Academy by a score of 39 to 29 in the championship game of the Westchester Independent Athletic Association yesterday. This is the 4th year in a row that the Lady Knights earned the status of League Champions. Mr. Greco said, "I am always impressed how our girls keep their cool and play with virtue under the immense pressure of competition, especially in a championship. I am really, really proud." The scoring was balanced as Colleen Daly, Marcela Lara, and Caroline Davis each had 9 points, while Adriana Shkreli and Eleanna Ventura each scored 6 points. A great part of this victory was the loud cheers from the bleachers as parents and students came to root on the girls. Teammates Aurora DeSantis, Yessica Marte, Claudia Greco and Alexis Santos were ready, willing and able to come off the bench and help any way they could as they have done all year.
"This is an amazing group of girls, some who have never played before. They were sponges taking everything Coach Mike Flanagan taught them and putting it into practice," noted Director of Athletics Bob Greason. Coach Flanagan agreed, "I've been coaching the Montfort Lady Knights basketball team for the past four seasons and I have never been more proud of a team and what they were able to accomplish. I'm very happy for the girls that all of their hard work and effort turned into an undefeated season and a fourth consecutive WIAA championship."
About The Montfort Academy
The Montfort Academy, founded by former Assistant Secretary of the Navy Richard Greco, Jr., is an award winning classical Catholic high school in Mt. Vernon, NY, serving the communities of Mt. Vernon, Yonkers, the Bronx, and the surrounding areas. Ranked among the top private schools in New York and the best 50 Catholic high schools in America, Montfort is one of the only high schools in the nation to conduct classes using the Socratic methodology. The Montfort Academy's curriculum draws on thousands of years of educational tradition, offering courses in Latin, Greek, Astronomy, Debate & Rhetoric, Civics, Geography, Chivalry, Economics, and many other subjects in the sciences, mathematics, technology, literature, and history. The Montfort Academy has a 100% college admissions rate and seeks to graduate students prepared for college and beyond, well-balanced and rich in mind, body, and soul. For more information on The Montfort Academy please call headmaster David Petrillo (Lt. Col. USAF ret.) at 914-699-7090 or visit the website http://www.themontfortacademy.org.