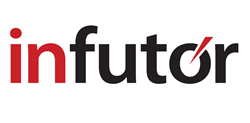 We are excited to have Drew and John join our team as they bring specialized expertise that will be key to enabling our growth acceleration plans
Oakbrook Terrace, IL (PRWEB) March 07, 2017
Completing its objective to build a strong executive leadership team as a foundation for growth and innovation, consumer identity management expert Infutor announced today that Drew Plisco has joined as Chief Financial Officer (CFO) and John Barnes has been named Chief Technology Officer (CTO).
"We are excited to have Drew and John join our team as they bring specialized expertise that will be key to enabling our growth acceleration plans," said Gary Walter, president and CEO of Infutor. "Both of these leaders are critical to executing Infutor's mission to provide consumer identity management solutions that help leading brands better identify and understand their customer so they can make more informed, actionable marketing and risk mitigation decisions."
As CFO, Plisco oversees the finance, accounting, legal, and human resources functions of Infutor. Plisco is a dynamic finance executive with a proven track record of helping companies accelerate growth and profitability. Prior to joining Infutor, Drew was the vice president of finance at Sage Group plc and previously was responsible for the global financial planning and analysis function at First Advantage, a leading provider of background screening technology and services.
Joining from Salesforce, CTO John Barnes, a mobile and cloud thought leader, is responsible for developing Infutor's technology assets to support and drive innovation. Previously, Barnes was vice president of mobile products for Salesforce, where he helped develop products that allowed Fortune 500 and fast-growth B2C marketers reach mobile customers and drive top-line revenue. He also previously served as CTO of Model Metrics, which was acquired by Salesforce.
About Infutor
Infutor is the expert in data-driven consumer identity management. The company is solely focused on enabling brands to instantly gain access to the most complete and accurate information about consumers, exactly when they need it, to make informed marketing and risk mitigation decisions. Infutor's mission is to deliver solutions that accurately identify consumers before, during and in-between engagements, giving brands a secure, privacy compliant foundation to improve inbound engagement and outbound omnichannel marketing reach, and to minimize losses due to fraud and non-payment. Led by information industry veterans, Infutor is a privately held company founded in 2003 with strategic investments from Norwest Venture Partners. Infutor is headquartered in Oakbrook Terrace, Ill. For more information, visit http://www.infutor.com.
# # #