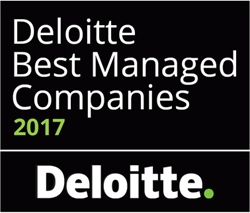 Vizor Software awarded Best Managed Status at 2017 awards gala.
Dublin, Ireland (PRWEB) March 07, 2017
Vizor which demonstrated superior business performance throughout 2016 was recognised at an awards gala dinner, attended by over 900 people at the Dublin Convention Centre on 4 March 2017.
Vizor was also commended earlier in the day at the Deloitte Best Managed Symposium for Best Submission in the Commitment category.
The Deloitte Best Managed Companies Awards Programme in association with Barclays Bank Ireland, recognises indigenous Irish companies across Ireland that are operating at the highest levels of business performance. The network of 127 Best Managed Companies now employs over 60,000 people around the country and has a combined turnover of almost €11bn. Recognising the importance of overseas markets for Irish companies, the Best Managed Companies also recorded an average growth in sales of 44% over the last three years
Sixteen companies, including Vizor, were awarded "Best Managed" status for the first time this year, following a detailed qualification and judging process. This process took into consideration the complete performance of the business, looking beyond the finances at criteria such as operational excellence, strategy and human resource processes.
Ross Kelly, Joint CEO of Vizor, accepted the award on the Company's behalf, "We thank Deloitte, Barclays Bank, and the judging panel for recognising Vizor. This award is a testament to the hard work, energy, and commitment of our team."
Managing Partner of Deloitte and judging panel member, Brendan Jennings commented: "Congratulations to all the 2017 winners. All the companies here tonight are at the end of a long process of evaluation, which makes their Best Managed designation even more rewarding and valuable as a marketing tool for their business. It is clear that these companies make an invaluable contribution to the Irish economy - employing 60,000 people and generating turnover of €11bn."
Sasha Wiggins, CEO of Barclays Bank Ireland, added: "We believe that great people make the best companies. Behind this year's winning companies are 60,000 people who combined have demonstrated absolute commitment to business excellence. The Barclays team is delighted to have had the opportunity to support this diverse range of inspiring companies in the development of their unique strategies and we wish them continued success in the future."
This is the latest in a succession of awards for Vizor Software, who recently won the Central Banking's Technology Provider of the Year Award, ranked 5th in the Deloitte Technology Fast 50 Programme, and 174th in the Deloitte Technology Fast 500 EMEA Programme.
About Vizor Software
Vizor Software has been the standard for financial regulatory technology since 2000. Leading the way in regulatory supervision software, Vizor Software is trusted by Central Banks and Financial Regulators from around the globe for the collection, validation and analysis of highly complex data from Financial Institutions. Serving the needs of financial regulators in more than 30 countries, Vizor is a trusted partner of large consulting firms and leading XBRL toolset providers. Employing a collaborative, agile approach to implementing regulatory solutions, Vizor simplifies and strengthens financial regulation systems. You can learn more and visit Vizor at http://www.vizorsoftware.com or by following Vizor on Twitter, LinkedIn, Google+ and Pinterest.