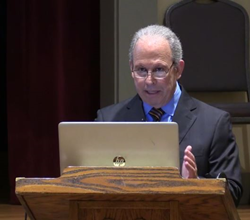 HIFU is an extremely well tolerated procedure ...
Santa Rosa, CA (PRWEB) March 07, 2017
A public presentation recently held in Santa Rosa for a group gathered to learn more about high-intensity focused ultrasound (HIFU) provided an overview of how this exciting new prostate cancer treatment works, and included comparisons to other treatment options, as well as HIFU patient outcomes. The event also offered people a chance to meet Dr. Lazar, who is a four-time board certified urologist and prostate cancer specialist providing HIFU to patients in California. It also gave attendees a chance to learn more prostate cancer and to ask important questions.
During the presentation, Dr. Lazar discussed how HIFU offers hope for prostate cancer patients by targeting cancer cells through a focused precision technology with minimal to no side effects. The procedure is accomplished in a one to four-hour session and patients return to their normal routines fairly quickly. "Our recent presentation was so well received, we wanted to be able to offer it to a wider audience," explained Dr. Lazar. "By providing this information to patients online we hope to be able to educate men who currently have prostate cancer about HIFU as a treatment option, and to perhaps provide some important answers to unasked questions."
About HIFU
Although relatively new to the U.S., Sonablate® technology has been used around the world on more than 15,000 patients in over 30 countries for more than 15 years. Approximately 4,000 U.S. men have received HIFU treatment outside the U.S. prior to FDA approval.
"I started treating with HIFU in 2007 and since receiving FDA approval in 2015 began offering the treatment in San Francisco," Dr. Lazar said. Prior to FDA approval Dr. Lazar explained that he performed outpatient procedures at a U.S. Joint Commission approved bilingual hospital in Mexico – helping to bring this innovative prostate cancer treatment to hundreds of men diagnosed with the disease. During that time, Dr. Lazar also served as a HIFU instructor for other physicians and is now actively training doctors in HIFU for prostate cancer in San Francisco.
Serving as Medical Director for HIFU Prostate Services (HPS), Dr. Lazar founded California HIFU to provide HIFU services in the San Francisco area, the first such facility on the west coast. Since that time HIFU using Sonablate® technology has become available in more than 40 locations across the nation.
For patients with prostate cancer, HIFU treatment is most effective in the early stages, where it is localized to the prostate. Performed on an out-patient basis, the procedure is able to preserve healthy tissue and nerves, so urine flow and erectile function is maintained in a high percent of cases. "This is an extremely well tolerated procedure," said Dr. Lazar. "Patients return to normal activity very quickly. There is no blood loss and very little pain when compared to other treatments for prostate cancer."
Dr. Lazar explains how all prostate cancer treatments can have side effects. But with HIFU the side effects are lower than with any of the other treatments for prostate cancer. "Unique to HIFU, if you have an HIFU treatment and still require additional treatment, patients can opt to have a second HIFU treatment, or any other treatment they decide to pursue," he says.
The presentation is free and available online on the California HIFU YouTube Channel accessible by following this link: HIFU YouTube Channel.
About Dr. Lazar
Dr. Lazar is part of Northern California Medical Associates and operates California HIFU in Santa Rosa. He is the medical director of HIFU Prostate Services, LLC, a leading provider of minimally-invasive prostate cancer treatments using High Intensity Focused Ultrasound (HIFU). Dr. Lazar is also a clinical partner with HPS with the HIFU San Francisco Surgery Center of Excellence, a state-of-the-art facility that is convenient to hotels and the airport. For more information about Dr. Lazar, HIFU treatment for prostate cancer visit the HIFU website or to make an appointment call: (707) 546-5553.