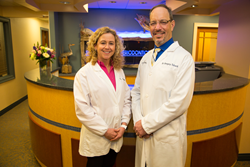 Westerly, RI (PRWEB) March 06, 2017
Renowned periodontists Drs. Gregory Toback and Marianne Urbanski now welcome new patients to visit their practice, Shoreline Periodontics, with or without referrals to receive Teeth-in-a-Day® dental implants. These implants, which anchor a full denture in place, offer patients various health benefits and functional gains. Additionally, this innovative implant technique allows Drs. Toback and Urbanski to replace missing teeth in Westerly, RI, in as little as one appointment.
With Teeth-in-a-Day®, Drs. Toback and Urbanski can give patients a high level of convenience and functionality. Since the dental prosthesis is secured by dental implants that rest in the jaw, this tooth replacement allows for natural speech and a full diet. The implants also stabilize jawbone density, preventing the need for future adjustments to the denture. Teeth-in-a-Day® implants are more affordable than individual implants and frequently are more accessible to people who might be poor candidates for single implants due to bone density loss. Furthermore, with Teeth-in-a-Day®, patients do not need to go without functional teeth while their implants heal.
People who live with missing teeth in Westerly, RI, can receive Teeth-in-a-Day® implants in just a few steps. During an initial appointment, Drs. Toback and Urbanski take diagnostic images, plan the implant placement and take the impressions that they will use to create a customized denture. Next, during the surgical appointment, the doctors perform any necessary tooth extractions or bone grafting before placing the dental implants. Drs. Toback and Urbanski then give patients a temporary denture to wear until the final restoration is complete. Throughout this process, the doctors, who specialize in implant surgery and have even instructed other professionals on this subject, use state-of-the-art technology to ensure the best outcomes for each patient.
For more information about Teeth-in-a-Day®, people who live with missing teeth near Westerly, RI, are welcome to visit the website of Shoreline Periodontics at http://www.shorelineperio.com. To request appointments, patients may directly call the practice office at (401) 622-4661.
About the Practice
Shoreline Periodontics is a periodontal practice offering personalized dental care for patients since 1998 and is located in New London, CT and Westerly, RI. Leading periodontist, Dr. Gregory A. Toback, received his B.A. from St. John's University and his Doctorate of Dental Medicine from the University of Connecticut. He also received advanced training in periodontics and dental implants at the University of Texas Health Science Center in San Antonio. Dr. Toback focuses on minimally invasive surgeries, offering the LANAP® protocol and belongs to a small group of dental professionals currently providing the Chao Pinhole Surgical Technique™ for treatment of gum recession. Dr. Marianne Urbanski has been voted one of Connecticut's top dentists for more than seven years by Connecticut Magazine. Dr. Urbanski graduated cum laude from the College of Holy Cross in Worcester, Massachusetts where she earned a Bachelors' degree in Biology. She also received her Doctor of Dental Medicine degree and her Masters' of Dental Science degree from the University of Connecticut Dental School. Dr. Urbanski prides herself on offering caring, professional care to each patient. To learn more about Shoreline Periodontics and their dental services visit their website at http://www.shorelineperio.com or call (860) 333-1531 for the New London, CT location, or (401) 622-4661 for the Westerly, RI office.