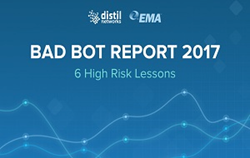 Boulder, Colo. (PRWEB) March 08, 2017
Enterprise Management Associates (EMA), a leading IT and data management research and consulting firm, today announced it will host a webinar titled "Distil Networks 2017 Bad Bot Report: 6 High Risk Lessons for Website Defenders" featuring David Monahan, research director of security and risk management at EMA, and Rami Essaid, CEO of Distil Networks.
Bad bots are expanding at an epidemic rate creating a scourge across the Internet. Bots are the primary culprits behind widespread attack vectors, including web scraping, competitive data mining, account takeovers, transaction fraud, unauthorized vulnerability scans, spam, man-in-the-middle attacks, digital ad fraud, API abuse, and application denial of service.
Distil Networks has produced their fourth annual Bad Bot Report to address this epidemic. It is the IT security industry's most in-depth analysis on the sources, types, and sophistication levels of 2016's bot attacks -- and there are serious implications for anyone responsible for securing websites and APIs.
During this webinar, Monahan and Essaid will dive into this new data to reveal:

6 high-risk threats every IT security professional must protect against
The top open web application security project (OWASP) automated threats to start tracking
How bad bot activity varies based on industry and vulnerability profile
The worst offending bad bot countries, ISPs, mobile operators, and hosting providers
The webinar is Tuesday, March 21, 2017 at 1:00 p.m. Eastern. Those who wish to attend can register at: http://research.enterprisemanagement.com/6-high-risk-lessons-for-website-defenders-pr.html
About EMA
Founded in 1996, Enterprise Management Associates (EMA) is a leading industry analyst firm that specializes in providing deep insight across the full spectrum of IT and data management technologies. EMA analysts leverage a unique combination of practical experience, insight into industry best practices, and in-depth knowledge of current and planned vendor solutions to help its clients achieve their goals. Learn more about EMA research, analysis, and consulting services for enterprise line of business users, IT professionals and IT vendors at http://www.enterprisemanagement.com or blogs.enterprisemanagement.com.