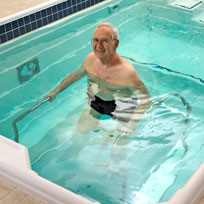 Middletown, Pennsylvania (PRWEB) March 13, 2017
A common concern among aquatic therapy providers is how to ensure their facilities receive expected insurance reimbursement for their services. Beyond making sure all reimbursement forms are properly worded and sent in a timely fashion, physical therapists also need to show functional patient progress to providers. This can be a challenge, especially for those new to aquatic therapy protocols and practices. Kathleen Dwyer, a long-time occupational therapist who has served in leadership roles and has aquatic therapy environment billing and auditing backgrounds, will share her knowledge about this subject in an upcoming HydroWorx webinar.
Dwyer's webinar, "Creating and Documenting Measurable Functional Progress with Aquatic Therapy," will tackle the realities that sometimes complicate the reimbursement process. In addition, her one-hour presentation will include methods to keep the atmosphere fun for patients, while still striving for measurable results.
Attendees of "Creating and Documenting Measurable Functional Progress with Aquatic Therapy" will learn several key topics from Dwyer:

What the requirements of documentation are for the aquatic therapy marketplace.
How to prove aquatic therapy interventions are assisting patients through provable, trackable, observable and objective data points.
What to include in all documentation to insurance reimbursement providers.
After the webinar, Dwyer will open discussion for a question-and-answer session.
The live webinar event is scheduled for Wednesday, March 15, 2017, from 1:00-2:00 E.D.T. Attendance is free, but registration must be made online prior to the start time.
About Kathleen Dwyer
Kathleen Dwyer is an occupational therapist who has worked in acute care, outpatient rehabilitation, and skilled nursing rehabilitation settings. Her background includes being a director of therapy and a regional director of therapy. Kathleen graduated from Eastern Michigan University with a Bachelor of Science degree in Occupational Therapy in 1999. She has had the opportunity to open two aquatic therapy centers from the ground up and she is working toward opening her third site in March. She has personally incorporated aquatic therapy interventions into the treatment plans for her patients and has seen the benefits of aquatic therapy first hand.
About HydroWorx
Since the late 1990s, HydroWorx has manufactured aquatic therapy products with integrated underwater treadmills to enable rehabilitation professionals to more effectively offer their patients the opportunity to increase range of motion, decrease risk of falls and joint stress, and remain motivated through the rehab process.
Products such as the HydroWorx 2000 and 500 Series therapy pools, along with the HydroWorx 300 system have revolutionized the face of aquatic therapy; in fact, HydroWorx technology is used by world-class facilities such as OrthoCarolina, Cleveland Clinic, Kennedy Krieger Institute, Genesis Healthcare, Neuroworx, Clear Choice Healthcare, PruittHealth, Premier Rehab, Leg Up Farm and many other healthcare facilities across the country.
HydroWorx offers a wide range of underwater treadmill pools and peripheral products and services. Every day, more than 30,000 athletes and patients use HydroWorx technology to recover from injuries and health conditions.
More information about HydroWorx can be found at http://www.HydroWorx.com.