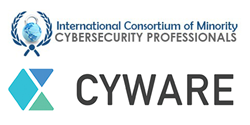 North Haledon, NJ (PRWEB) March 08, 2017
The International Consortium of Minority Cybersecurity Professionals (ICMCP) has partnered with Cyware Labs, a cyber situational awareness and information sharing platform, to keep ICMCP members up-to-date on the happenings of the cyber world and to share ICMCP related committee and program updates. Through this partnership, Cyware Labs will award 1,000 Enterprise Mobile App licenses worth $39,000/year for the next two years. The partnership will allow ICMCP members unlimited access to Cyware's content in the form of cyber updates, alerts, knowledge check questions, and poll results.
"Cyber situational awareness is the key to minimizing the effect of human error on any organization's cybersecurity posture. By partnering with Cyware Labs, ICMCP's goal is to help its members differentiate between legit and malicious activities," says Aric K. Perminter, President at ICMCP. "Since threats are not constant, we aim to provide our members with daily cyber situational awareness education covering the latest cyber incidents, threat intelligence, security alerts and best practices. This awareness will go a long way toward establishing a security foundation strong enough to withstand future emerging threats," added Perminter.
The full ICMCP membership rollout began on March 8, 2017. The App will also be highlighted during the ICMCP National Conference March 15-16 at the Washington Plaza Hotel in Washington, D.C. to share session and speaker details with conference attendees. This information will be pre-loaded in the Cyware database and sent to all attendees before each session.
Anuj Goel, Co-Founder of Cyware Labs, says "The cyber threat landscape is rapidly evolving. With the proliferation of threats and threat actors, it is becoming extremely challenging to be battle-ready against hackers." He further says, "The ask is – How to Prepare, Prevent and Protect against threats in such a scenario? The panacea lies in Cyber Situational Awareness (CSA) which tracks the threats, disseminates awareness in real-time thereby eliminating any vulnerability in the human mindset that hackers could exploit. If you are aware, the hacker will have no element of surprise. If you can eliminate the element of surprise, then you have won the war."
Additional benefits offered by the Cyware Mobile Application include:

Situational Awareness: Cyware makes its users aware of new threats and vulnerabilities by sharing best practices and threat alerts to safeguard sensitive data and protect infrastructure
Real-time Incident Reporting: Cyware develops a culture of "see something, say something" by allowing employees to report cyber and physical security incidents
Knowledge Assessment: Cyware promotes periodic cyber knowledge checks to assess Users' understanding of cyber topics
Real-time Intel Sharing: Cyware enables sharing of daily strategic threat intelligence with senior executives and tactical Indicators of Compromise (IoCs) with Intel and SOC teams
About ICMCP
The International Consortium of Minority Cybersecurity Professionals (ICMCP) is a 501(c)(3) non-profit organization. It began official operations in September 2014 and is organized exclusively for charitable purposes, to provide members with educational/technical scholarships, mentoring opportunities, professional development and networking opportunities. For more information or to become a sponsor, please visit https://icmcp.org/, follow @ICMCP_ORG on Twitter or visit the ICMCP LinkedIn page.
About Cyware Labs
Cyware is a professional cybersecurity awareness platform with a mission of enhancing security culture by strengthening situational awareness and building a common, shared knowledge of cyber threats. Cyware integrates the human endpoints with security fabric of the organization through its niche products over mobile platforms. It works by disseminating real-time situational awareness, dynamically imparting and improving organizational cyber hygiene and empowering professionals through the incident reporting feature thereby significantly reducing the dwell time detection to seconds. To learn more about Cyware's Enterprise Solutions, please visit Cyware.com, follow on Twitter or join Cyware's LinkedIn community.