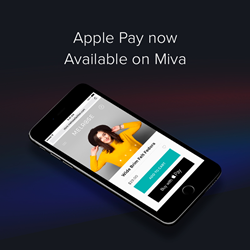 Apple Pay for the web is one of the best ecommerce payment technologies around today. - Brennan Heyde, VP. Developer Relations, Miva
San Diego, CA (PRWEB) March 13, 2017
Offering an Easy, Secure & Private Way to Pay
Miva, Inc, an Enterprise Ecommerce Platform, with the release of Miva Merchant 9.00065 today brings its customers Apple Pay, which is transforming mobile payments with an easy, secure and private way to pay that's fast and convenient.
With this new streaming update to Miva, Apple Pay is now instantly available to all of Miva's 10,000+ customers. With the flexibility of Miva's template engine, the Apple Pay button can be displayed on product pages allowing for instant purchases of single items or integrated seamlessly into the Miva checkout process to allow customers to quickly purchase their entire basket in a single intuitive step.
Security and privacy is at the core of Apple Pay. When you use a credit or debit card with Apple Pay, the actual card numbers are not stored on the device, nor on Apple servers. Instead, a unique Device Account Number is assigned, encrypted and securely stored in the Secure Element on your device. Each transaction is authorized with a one-time unique dynamic security code.
"Apple Pay for the web is one of the best ecommerce payment technologies around today. We're extremely excited to get this in the hands of all our Miva Merchant store owners. We've made the implementation of Apple Pay extremely simple and flexible for any Miva Store. With its proven conversion rate increases, we're looking forward to getting Apple Pay setup on every Miva customer we can." - Brennan Heyde, VP. Developer Relations, Miva
Apple Pay is easy to set up and users will continue to receive all of the rewards and benefits offered by credit and debit cards. In stores, Apple Pay works with iPhone SE, iPhone 6 and later, and Apple Watch.
Online shopping in apps and on websites accepting Apple Pay is as simple as the touch of a finger with Touch ID, so there's no need to manually fill out lengthy account forms or repeatedly type in shipping and billing information. When paying for goods and services on the go in apps or Safari, Apple Pay works with iPhone 6 and later, iPhone SE, iPad Pro, iPad Air 2, and iPad mini 3 and later. You can also use Apple Pay in Safari on any Mac introduced in or after 2012 running macOS Sierra and confirm the payment with iPhone 6 or later or Apple Watch, or with Touch ID on the new MacBook Pro.
For more information on Apple Pay, visit: http://www.apple.com/apple-pay/
Miva's ecommerce solution has powered over $100 billion in online sales for some of the most successful B2B and consumer brands in the world since 1997.
For more information on Miva, visit http://www.miva.com or http://www.miva.com/apple-pay