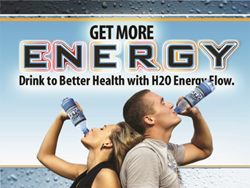 We are very grateful and appreciative of the opportunity to partner with Orgill. Working alongside of local store owners from around the nation and helping them promote their small business is a mindset our company values. -Samuel Burlum, CEO & President
Memphis, Tennessee (PRWEB) March 08, 2017
Orgill Distributors recently approved Extreme Energy Solutions Inc., as a drop ship vendor, which allowed for Extreme to participate in Orgill's Spring/Summer Buying Convention, held in New Orleans, February 16-18, 2017. There, several locally owned independent stores in attendance readily signed up to offer H2O Energy Flow in their store. H2O Energy Flow will now be made available to consumers through selected independent retailer locations affiliated with Orgill.
The largest independently owned hardlines distributor, Orgill provides retailers with over 75,000 product choices domestically and in over 60 other countries. Founded in 1847, Orgill continues to make available inventory and retail services to a host of locally owned independent hardware stores, lumber yards, building centers, and other retailers related to the home service industry; calling Memphis, Tennessee home to its corporate center.
Orgill addresses and services the hardware store industry differently than other competitors in the hardware supply space. This is largely in part because it is not a co-operative warehouse. Part of Orgill's success is due to its retailer support model, which aims to assist local store owners in building their own brand identity, rather than tying their local store to a national name plate.
It is no wonder that Extreme Energy Solutions Inc., and H2O Energy Flow are such a good fit in partnering with Orgill. As part of H2O's early adopter's promotional program, Extreme Energy Solutions teams up with each independent locally owned store to spread the important message of why it is important for consumers to "buy local." Extreme provides a series of marketing and advertising promotions with the intent that it will help each store increase its foot traffic, letting potential customers know that they can get H2O Energy Flow at a selected independently owned local business in their region.
To know more about H2O Energy Flow, check out this latest video: https://www.youtube.com/watch?v=qEsm0XpxCtM
Extreme has launched its marketing campaign to help promote H2O Energy Flow, including a series of print and media advertising, social media campaigns, motorsports marketing campaigns, and new video content highlighting the ever-growing popular bottled drinking water. You can find a store location near you, by visiting http://www.H2OEnergyFlow.com.
"We are very grateful and appreciative of the opportunity to partner with Orgill. Working alongside of local store owners from around the nation and helping them promote their small business is a mindset our company values. I am glad they are giving H2O a chance to show the product is a performer. We have found working with Orgill's team to be very helpful, highly professional and knowledgeable," commented Samuel K. Burlum, CEO and President of Extreme Energy Solutions, Inc., the parent company of Extreme Kleaner and H2O Energy Flow.
Burlum added, "For 2017, we are in the process of organizing the first H2O Energy Flow Tour of Stores, which will now include stops and promotional awareness at selected locally owned retailer store locations that now carry the H2O brand."
The Extreme Energy Solutions Sales and Promotions team will be dispatched on the road nationwide, delivering the message of how important it is to support your local family owned business, while introducing new environmentally friendly and sustainable products that are "made in the USA," and readily available to consumers via local partnered retailers.
H2O Energy Flow got its start in Milwaukee and Madison, Wisconsin, where the product was introduced to the fitness, health, and wellness centers, natural health food stores, and selected independently owned grocery stores. In 2014, market research study in the northeast was conducted on behalf of the product, which prompted H2O Energy Flow in making a market introduction to the New Jersey/New York metro area.
Now H2O Energy Flow will have an opportunity to spread domestically and internationally via the new partnership it has with Extreme Energy Solutions, since Extreme Energy Solutions is now an official drop ship vendor of Orgill Distributors. H2O is bottled at the source; an artesian well deep in the state of Wisconsin.
A portion of every sale of H2O Energy Flow is dedicated toward assisting local and/or regional causes. H2O's cause marketing efforts will allocate a portion of its proceeds to helping communities and villages that are financially disadvantaged and have minimal or no access to clean fresh drinking water. Part of the sales of H2O Energy Flow will be donated toward the cost of digging new, fresh, clean drinking water wells for these communities, where uncontaminated, consumable drinking water is at a premium. Also H2O will provide educational materials and resources on how to institute the best practices dealing with the conservation and preservation of society's most important natural resource.
H2O Energy Flow is the proud sponsor of the #H2O Small Block Modified and veteran driver Tommy Vigh Jr. H2O Energy Flow has also made major inroads within the racing community, where more racing pit crew and fans in the Northeast are discovering the benefits of drinking H2O Energy Flow after hard nights of door to door competition.
H2O Energy Flow has been the focus of many positive press write-ups and media publications, including being spotlighted in Natural Awakenings Magazine. H2O Energy Flow representatives have been seen at commercial/wholesale buying markets around the country, related to hardware chain co-ops.
To find out how H2O Energy Flow can work for you, take a moment to view this video today, or go to http://www.H2OEnergyFlow.com for more free information about clean, fresh, drinking water tips.