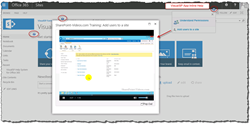 (PRWEB) March 08, 2017
VisualSP®, publisher of the in-context, Just-in-Time Learning® Help System for SharePoint, announced today the immediate availability of the VisualSP Express Annual Subscription option.
This new offering is designed to eliminate the need for organizations to store help content locally, with on-demand, cloud-based software that is easy to implement. With an annual subscription rate of $3,490, this new subscription level gives organizations, otherwise unable to afford a lifetime license of the VisualSP Help System for SharePoint®, a lower-cost option to provide user help in the work context for the entire organization. With a passion for helping users and empowering teams, VisualSP created a free online interactive demonstration of the product.
More than 1.5 million SharePoint users globally are supported by VisualSP, including regulated industries such as healthcare; local, state, federal, and regional government agencies; higher education; energy; and finance. The multimedia help format suits various learning styles, and eliminates workflow disruptions from user support queries, increasing user adoption and significantly reducing support costs. From technical help to complex computing tasks, the VisualSP Help System is always available at the moment of need. Users gain increased SharePoint confidence and become more enthusiastic about using the platform for completing daily tasks.
"With the VisualSP Express Annual Subscription, organizations in need of a better self-directed learning option for SharePoint at a lower cost can select the subscription without budget approvals, in many cases," notes Asif Rehmani, CEO and founder of VisualSP. "Our Express version is designed for smaller SharePoint farms. Organizations looking to the cloud for SharePoint support also benefit."
The same full-feature help content included with the VisualSP Standard or Enterprise versions is available with this option. Organizations opting for this new version can still add the custom content needed to ensure SharePoint users are comfortable in the user environment, regardless of the task at hand.
For more information, contact VisualSP via email at sales(at)visualsp(dot)com or by telephone at 630-786-7026.